Federation Cup: Italy hot favourites against weakened Russia
Last Updated: 01/11/13 3:44pm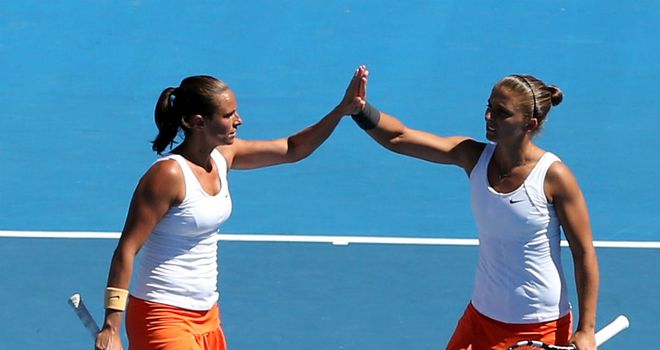 Sara Errani and Roberta Vinci: Italy's doubles pair the world No 1 partnership
Hosts Italy are huge favourites to beat weakened Russia in the Federation Cup final in Cagliari this weekend.
None of the top 11 Russian players in the world rankings are available, whilst Italy can name their strongest line-up.
Russia's Alexandra Panova is the world No 136, and Alisa Kleybanova is down at 183 and they are complemented by two inexperienced teenagers, Irina Khromacheva and Margarita Gasparyan.
Kleybanova is a much better player than her ranking suggests having been in the top 20 before her diagnosis with the cancer Hodgkin's lymphoma in 2011.
Italy will have the world No 7 Sara Errani and No 13 Roberta Vinci - who are also the world's No 1 doubles pair.
Russia captain Shamil Tarpischev sprang a surprise by selecting 18-year-old
Khromacheva ahead of Kleybanova for the singles rubbers.
Khromacheva, the runner-up at Junior Wimbledon in 2011, will take on Errani on Saturday after Vinci has played Panova.
The Russian absentees have varying reasons for not wanting to be in Sardinia.
Their No 1, Maria Sharapova, is ruled out with a shoulder injury, and their No 4 Ekaterina Makarova, has a wrist problem.
Maria Kirilenko, Elena Vesnina and Anastasia Pavlyuchenkova, all among the top six Russians, choose to play in the WTA's Tournament of Champions in Bulgaria instead.
And tense relations with the Russian Federation have reportedly been a factor for other players
Vinci could also have chosen to play in Sofia but she says playing for her country is her priority.
She told fedcup.com: "Our team is pretty positive. We shouldn't be upset by a bad day. We have to be happy: we're playing tennis, we're playing for our team, our country, we're proud of it and we are in a great place. Everything is very good.
"Fed Cup is very different and it's much harder for most players than just a normal tournament because the atmosphere is much more stressful and there is a lot of pressure and it's a lot of responsibility."
Russia's Fed Cup coach Anastasia Myskina, twice a winner of the competition as a player, has sympathy with the missing players, but thinks they made the wrong decision.
She told tennis.com: "It was their decisions and I could understand Kirilenko has been hurt the past two years and Elena wants to be in the top 20, so good luck, and the same thing with Nastia (Pavlyuchenkova).
"But, for me, Fed Cup was always in first place no matter how much I was playing."
The clash with the Tournament of Champions will not happen next year. The ITF, which organises the Fed Cup, has moved the final back by a week for 2014.
ITF president Francesco Ricci Bitti said: "Fed Cup is celebrating its 50th birthday this year and has enjoyed an illustrious history.
"By changing the date we believe we have shown flexibility and concern for the players in helping them to continue to represent their country in this prestigious competition."