Victoria Azarenka struggling for motivation and looking forward to a break
Last Updated: 24/10/13 8:54am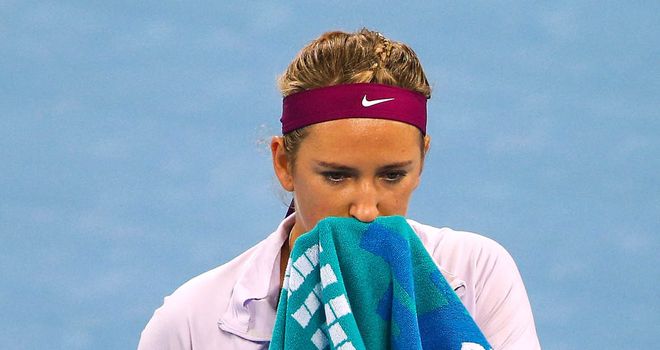 Victoria Azarenka: "It's just the bad road and I have to go through that."
Victoria Azarenka has admitted she is struggling to motivate herself after slumping to a 6-4 6-3 defeat to Jelena Jankovic in her second round-robin match at the WTA Championships.
The Belarussian has now lost four times in five matches since losing to Serena Williams in the US Open final and the 24-year-old says she is mentally fatigued.
"I think it's pretty obvious," she said. "Of course she was playing well. I think she's playing her best tennis right now. She's really improved a lot throughout the year.
"But I cannot sit and say that I played well and she was better today. There was a lot of mistakes - small mistakes, a little bit bigger mistakes.
"It's hard sometimes to just keep it up," she said. "I think I have been pretty much the most consistent player the last two years and sometimes things like this happen.
Bad road
"It's just the bad road and I have to go through that, because it didn't happen to me in a long, long time.
"Definitely it's tough at the end of the year to play against the best players, because every match you have to go and dig deep, and sometimes your motivation is not there enough to know how deep can you dig.
"I just need to battle right now as much as I can."
Having beaten Sara Errani in her first match, Azarenka's hopes of making the semi-finals are still very much alive going into her final white group clash against Li Na on Friday, but she is not holding out any hope of progressing.
"I have one more match so for me it's just going to be about that. Then there is a break, and 2013 will be over for me."