Kremlin Cup: Sam Stosur on target for back-to-back titles after easy semi-final win
Last Updated: October 19, 2013 3:02pm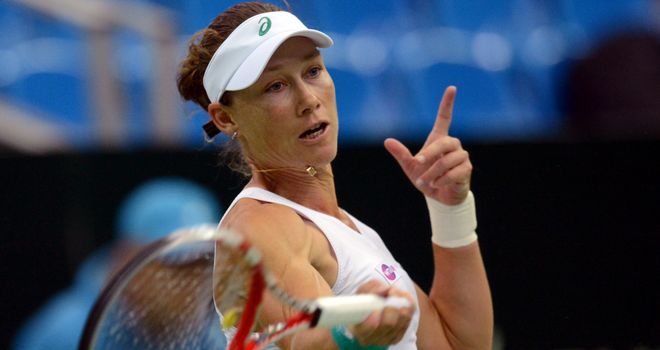 Samantha Stosur in action during her semi-final win
Samantha Stosur will take on Simona Halep in the final of the Kremlin Cup after both won their semis in straight sets.
Stosur advanced to her second straight final by beating her doubles partner Svetlana Kuznetsova 6-2, 6-4.
The pair both had serving troubles in the opening set which Stosur eventually took comfortably. Kuznetsova broke twice but lost all of her own service games, winning just six out of 23 points.
The pattern continued in the second set, with Stosur twice failing to serve the match out after going 5-1 up before she finally crossed the line.
"At the start we were both struggling to hold serve and she had love-40 again on me and my second service again and I was able to get out of that," said Stosur, who won her second title of the season and fifth of her career in Osaka, Japan, last Sunday.
"And I think that gave me a little bit of a head up and to win that first set 6-2 was good. It was still pretty tight all the way through with who was going to hold."
"We know each other's games pretty well. So I guess you've got to take your opportunities when you get them," she said.
The Australian, who was a runner-up to Caroline Wozniacki here last year, will face fifth-seeded Halep in Sunday's final.
The Romanian, who has won four WTA titles this year, cruised past local favourite Anastasia Pavlyuchenkova 6-2, 6-1.
Halep, ranked 18th in the world, raced into a 4-0 lead and closed out the opening set in 33 minutes and also won the first four games of the second before completing victory.