Croatian star Marin Cilic banned for ninth months for doping violations
Last Updated: September 16, 2013 7:20pm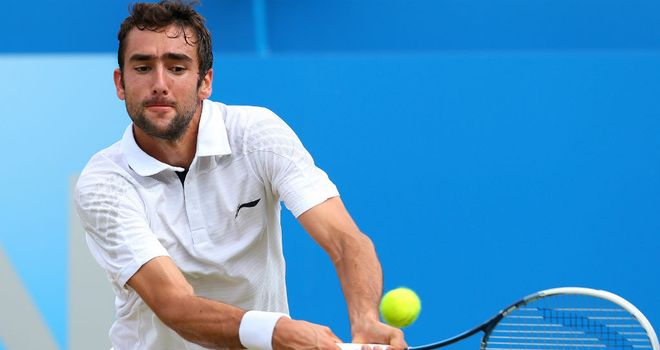 Marin Cilic: Nine-month ban for the Croat
Croatian star Marin Cilic has been banned for nine months for doping violations.
The suspension was backdated to May 1, so Cilic will be able to return to the circuit on January 31 and the ITF says it believes the Croat did not take the stimulant deliberately.
Cilic - the current world No 24 - tested positive for nikethamide, a stimulant, in Munich and he says he will appeal against the ban.
The ITF says an independent tribunal found that Cilic "ingested the nikethamide inadvertently as a result of taking the Coramine glucose tablets, and did not intend to enhance his performance in doing so."
As well as the ban "it was also determined that Mr Cilic's results at the 2013 BMW Open event should be disqualified, with resulting forfeiture of the ranking points and prize money that he won at those events.
"Mr Cilic's results subsequent to the BMW Open, up to the time that he accepted a voluntary provisional suspension are also disqualified, and the ranking points and prize money forfeited."
Appeal
Following the BMW Open, Cilic was knocked out of the French Open in the third round by Viktor Troicki, who coincidentally was banned in July for 18 months for failing to provide a blood sample at the Monte Carlo Masters in April.
He then reached the final at Queen's where he lost to Andy Murray before withdrawing from Wimbledon, where he was seeded 10th, prior to his second-round match against Kenny de Schepper with a knee injury.
He has not played since and Cilic will miss the Australian Open while serving out the latter stages of his ban.
The Croatian, who said he would appeal his ban to the Court of Arbitration for Sport, claimed he was unaware that Coramine tablets he bought contained nikethamide, for which he did not hold a valid Therapeutic Use Exemption.
"The substance in question originated from a glucose tablet purchased at a pharmacy in France. Unbeknownst to me, the glucose tablets contained a substance that is banned in competition," Cilic said in a statement.
"I wish to emphasise that I have never knowingly or deliberately taken any banned substances in my life and that I am opposed to any use of performance-enhancing substances in sport."