US Open: Andy Murray expects tough challenge from Florian Mayer in third round
Last Updated: September 1, 2013 6:53pm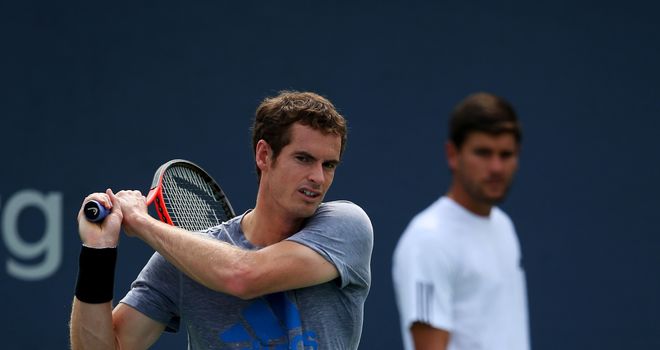 Andy Murray: All set to face Florian Mayer on Arthur Ashe Stadium
Andy Murray expects another afternoon of hard work when he faces Florian Mayer in third round of the US Open on Sunday.
After defeating the similarly-named Leonardo Mayer in a tough four-set encounter in round two, the defending champion now faces the German world No 47 for a place in the last 16.
Murray has met the 29-year-old twice before, both times on clay. He has come out on top each time but both matches were close, with Murray getting the better of two tie-breaks in Madrid this year.
Mayer, who has an unorthodox double-handed slice backhand, is a two-time Wimbledon quarter-finalist who has beaten Rafael Nadal in the past.
"He's very tough. He comes to the net a bit. He has a good slice backhand, but he hits it with two hands, which isn't how normally you're taught to play that shot," Murray said.
"He has very good feel up at the net, he hits a lot of drop shots. He's a pretty flat ball striker. He has sort of huge, looping strokes. It can be tough to time your split step and know when he's going to make contact with the ball.
"He's caused a lot of guys problems over his career. I'll need to play well to beat him."
Struggles
All of Murray's recent US Open struggles against lesser opponents, including the battle with Leonardo Mayer, have come on Louis Armstrong Stadium but the third seed is back on Arthur Ashe on Sunday.
Murray's Masterclass - The Serve
Murray had been clinical in beating Michael Llodra in round one, and he is not concerned about a slight blip last time out.
He said: "I thought the first match was very good. I didn't feel like I served as well as I did in the first match. It was a different court, different conditions during the day.
"I finished the match well. I played well when I needed to. That's a good sign. Obviously I want to keep improving as the tournament goes on. You don't want to play your best right at the beginning, so I hope I can get better."
For Mayer, the contest marks a return to Arthur Ashe nine years after he first played there.
He said: "In 2004 I played on Arthur Ashe against Andre Agassi and it was an incredible match. Unfortunately I got injured and had to retire, but I won one set and it was great."
Watch the 2013 US Open live only on Sky Sports. Click here to sign up