Wimbledon: Novak Djokovic beats Juan Martin Del Potro in epic Centre Court semi-final
By Paul Higham Twitter: @SkySportsPaulH. Last Updated: 05/07/13 9:47pm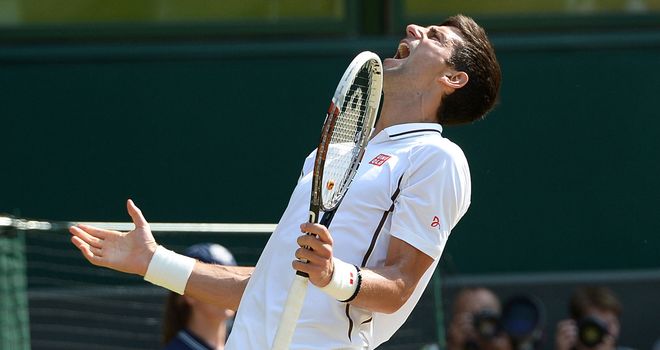 Novak Djokovic: Celebrates his epic win
Novak Djokovic overcame a huge challenge from Juan Martin Del Potro to move into the Wimbledon final after a marathon five-set epic on Centre Court.
The world No 1 was pushed every step of the way by the giant Argentine until he emerged with a 7-5 4-6 7-6 (7/2) 6-7 (6/8) 6-3 victory after four hours and forty three minutes of stamina-sapping tennis.
After what was the longest men's semi-final in tournament history, Djokovic moves into his second Wimbledon final to face either Andy Murray of Jerzy Janowicz.
Coming into the semi-final, neither man had dropped a set in the tournament and it showed from the outset.
Djokovic: Route to the final
R1: def Mayer 6-3 7-5 6-4
R2: def Reynolds 7-6 6-3 6-1
R3: def Chardy 6-3 6-2 6-2
R4: def Haas 6-1 6-4 7-6
QF: def Berdych 7-6 6-4 6-3
SF: def Del Potro 7-5 4-6 7-6 6-7 6-3
Aside from heavy strapping, Del Potro was showing few signs of the knee injury that resurfaced early in his quarter-final with David Ferrer.
Djokovic twice took a set lead and looked like sealing his semi-final victory during the fourth set tie-breaker when he held two match points, but Del Potro fought back manfully to take it and send the match into a deciding set.
Despite looking weary even from the end of the first set, Del Potro still managed to push Djokovic all the way as he entered unchartered territory with the match stretching into a length he had previously not spent on court in a match before.
Djokovic has been in a few epics in his time though and that extra endurance saw him break in the eighth game of the set to lead 5-3, but even then Del Potro would not lie down as he held a break point as Djokovic served for the match.
It was not to be though and Djokovic survived that before taking the next two points to end one of the most memorable matches Wimbledon has witnessed.
"It was one of the best matches I have been involved with," said Djokovic. "One of the most exciting, definitely.
"It was so close, really. I couldn't separate us except when I was 2-1, a set up and a break, but I dropped that serve."