Malaysian woe for Melzer
Austrian retires hurt while trailing Pospisil in Kuala Lumpur
Last Updated: 24/09/12 5:08pm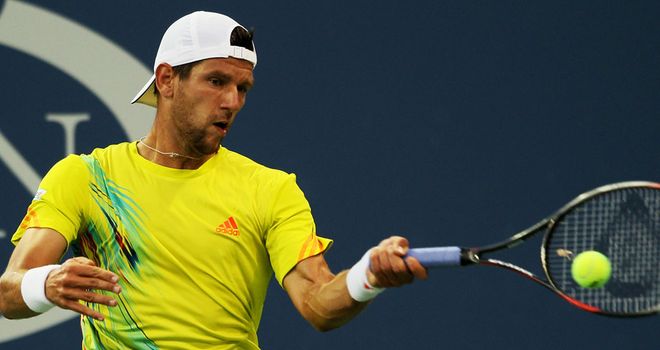 Jurgen Melzer: Retired from first-round clash at Malaysian Open
Eighth seed Jurgen Melzer exited the Malaysian Open in the first round after retiring from his match with Vasek Pospisil due to a thigh injury.
The world number 37 was trailing his Canadian opponent 6-4 2-0 when he was forced out of the contest at Putra Stadium in Kuala Lumpur.
Pospisil, who is ranked outside the world's top 100, said he was "disappointed" that the Australian was not able to complete the match and felt confident he would have gone on to win anyway.
"I will enjoy the win but it is not how I wanted to win - If he had carried on and finished the game, I would have considered it the best win of my career and a good achievement," the 22-year-old said.
Brian Baker was also sent crashing out in the opening round after he slumped to a 6-3 7-6 (7/4) defeat to fellow American Michael Yani, who will face Pospisil in the next round.
Barker was not seeded for the tournament but was favoured to beat Yani after a remarkable comeback year in 2012.
The only Malaysian player in the main draw, Ariez Elyaas Deen Heshaam, could not produce any heroics for the home crowd as he went down 6-2 6-1 to Dutchman Igor Sijsling.
Elsewhere in the first round, Chinese Taipei's Jimmy Wang booked a clash with second seed Juan Monaco after seeing off Riccardo Ghedin 6-3 6-3.