Tsonga: I have nothing to lose
Fifth seed hoping to improve on last year's performance
Last Updated: 05/07/12 9:26pm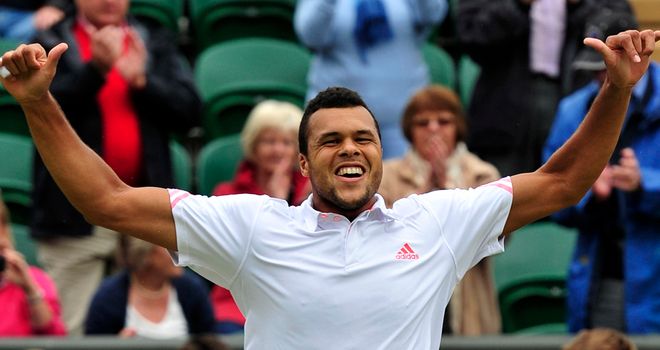 Jo-Wilfried Tsonga: Finger injury still causing some issues
Jo-Wilfried Tsonga will be playing through the pain barrier when he takes on Andy Murray in Friday's Wimbledon semi-final.
Tsonga is still bothered by a finger injury he suffered at Queen's last month, an injury he thought at one point would mean him missing the third Grand Slam of the season.
"We're at a new stage of the tournament now. I'm going to try to play it with a light heart. "
Jo-Wilfried Tsonga Quotes of the week
His form has been good since the start of the tournament with wins over tough opponents Lleyton Hewitt, Mardy Fish and Philipp Kohlschreiber, but Murray marks his hardest test yet.
"It will be a totally different match against Andy. It'll be madness. Almost all the crowd will be with him," Tsonga said.
"I will have nothing to lose, the pressure will be on him. We're at a new stage of the tournament now. I'm going to try to play it with a light heart.
"I thought I wasn't even going to be able to play here. When I was trying to train at home on the Thursday before the tournament, I wasn't able to play a backhand.
"The doctors assured me that it wouldn't be possible to aggravate it so I told myself that I'd go, I'd take the chance. If it doesn't happen for me, it doesn't happen. If it works, all the better.
"I'm still playing under anti-inflammatories and with pain but I think it's been worth it."
It will be Tsonga's second successive Wimbledon semi-final after he defeated Roger Federer last year, but this time he believes he is in a better frame of mind.
"It's a second chance to do something great here," he added. "I play to try for the big titles. This one is a fantastic one, so if I have a chance I'm not going to let it slip away.
"Last year I was in a state of euphoria. I got to the semis by coming from two sets down against Roger Federer. This year, I have my feet firmly planted on the grass and it's that which makes me think I'm better prepared. I'm more relaxed, more composed."