Roof designs unveiled
Redevelopment project planned for completion in 2015
Last Updated: 18/01/12 9:41am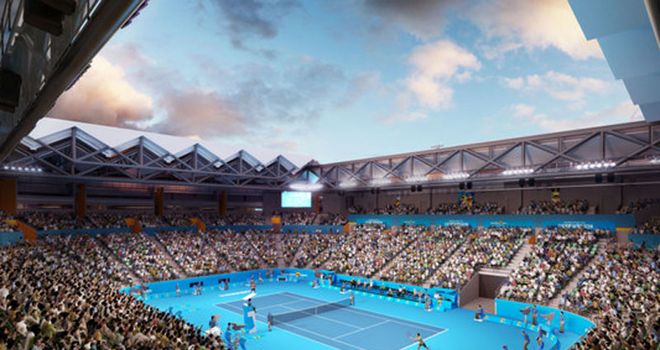 How the Margaret Court Arena will look in 2015
Australian Open organisers have revealed the designs for the new-look Margaret Court Arena.
A roof is to be added to Melbourne Park's 'third court', which will make the venue the only one to have three courts with retractable roofs.
The Aus$363million redevelopment of the venue's Western Precinct will be highlighted by the plans for the MCA, which will have its capacity raised from 6,000 to 7,500 as a result.
A new concourse area for fans is also included in the project which is due for completion in 2015.
The minister for major projects in the Victoria state government, Dr Denis Napthine, said: "This fantastic new design is focused on people and creating an active and welcoming space.
Identity
"The roof will provide greater shade and rain protection for the public, while the new foyer spaces are light, airy and inviting.
"Nearly the whole perimeter of the arena is glassed in with spectacular views of the city skyline.
"The 'pleated' roof design complements the adjacent Rod Laver Arena while giving the new Margaret Court Arena a stand-alone identity.
"I commend the architects NH Architecture and Populous for their clever work in taking an existing open air arena and creating a totally new facility."