Ivan the inspirational
Barry Cowan says Ivan Lendl can help Andy Murray raise his game - starting at the Australian Open.
Last Updated: 15/01/12 2:23am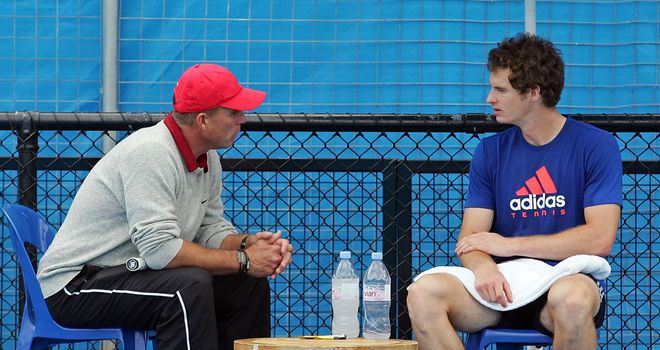 Andy Murray has every reason to be excited about his new partnership with Ivan Lendl.
It is early days but the pair seem to have forged an exciting affinity as player and coach and Murray's mood is noticeably upbeat ahead of the Australian Open.
Winning the Brisbane International final is hopefully the first step in a fulfilling, successful relationship.
I've always felt that whoever Murray was to choose as his next coach, it had to be someone he absolutely believed in, someone he could buy into 100 per cent.
It also had to be someone who had suffered disappointment in his career but learned from his experiences to go on and win the biggest titles in our sport.
Murray - wrongly for me - has always held the belief that people can't really help him if they haven't been in a Grand Slam final themselves.
Perhaps that's no surprise; for the most part the best players are stubborn and they generally make the biggest decisions when they feel it's the right time.
Lendl won the first of his eight Grand Slam titles in Paris at the age of 24 - the age Murray is now - and speaks from a position of authority. He has immense knowledge to share with Andy and that might just be the missing ingredient in the Briton's pursuit of a major title.
Rewards
As a player, Lendl was a pioneer. He revolutionised men's tennis by introducing a new level of physical intensity. Crucially for Murray, he was also able to be mentally strong day in, day out and he reaped the rewards.
Martina Navratilova did much the same for women's tennis and, far more recently, Novak Djokovic has raised the bar in the men's game.
Lendl will ensure that Murray doesn't retreat into his shell when the going gets tough, on or off the court. and I believe he will also help him with some intangibles off court that can be the key ingredient to being a great.
Lendl will also not let Andy get away with some of the histrionics we've seen in his body language in recent years when the going gets tough. Rather, he'll strive to ensure that Murray follows best practice each and every day. That is a prerequisite for a great champion.
Defining
Murray has reached three Grand Slam finals to date and it's my view that he has lost each of them before he's stepped out on the court because he has been a little bit too anxious and has wanted it too much.
Lendl's role isn't to help Murray beat Gilles Muller in the second round in Brisbane. The Scot should be able to do that whoever he has in his corner.
He will earn his money if he can introduce little triggers into Murray's game that make the difference on the biggest stages but the work has to start on the practice court.
I will be interested to see how much time Lendl spends with Murray but the British number one can't think it will just happen on finals day.
These might be small, defining moments - a quiet word at the right time reminding Murray of something that's been working well in training or recalling matches or passages of play when Murray has performed well.
Impact
I was surprised by the timing of Lendl's appointment on New Year's Eve.
I thought that Murray would have been much better off appointing a new coach at the end of last season, so he had more time to work on a few areas of his game before going into 2012.
But that doesn't mean Lendl can't have a positive impact on Murray's game before the Australian Open - far from it. Look at the positive short-term impact that Brad Gilbert had on Andy Roddick.
I've heard one or two people question whether Lendl lacks experience as a tennis coach. I prefer to look at it a different way and ask 'what defines a great coach?'
Would Lendl's intensive approach and methods get the best out of junior players? Probably not. But can he offer Murray those little bits of information that can help him step up? Definitely!
I wouldn't be surprised if Lendl spends quite a bit of time talking to one of his former coaches Tony Roche and if that's the case, Murray can only benefit from Tony's wisdom.
No-one has all the answers, of course, but when it comes to winning Grand Slam titles Lendl has more than most out there.
In that sense it's a great appointment and I can't wait to see how the two gel together.