It's advantage Murray
Greg Rusedski says Monday's delayed US Open final is Andy Murray's best chance to win a major yet.
Last Updated: 09/09/12 10:45am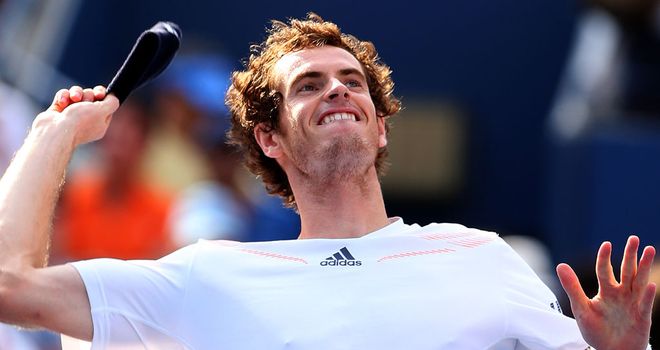 Greg Rusedski says Monday's delayed US Open final represents Andy Murray's best chance of winning a major yet.
Murray reached his fifth Grand Slam final - and second at Flushing Meadows - by defeating Tomas Berdych 5-7, 6-2, 6-1, 7-6 (9/7) in windy conditions that he described as "the hardest I have ever played in". Read our report here.
But the 25-year-old must wait to find out who he'll play for the title after severe weather warnings forced the second semi-final to be suspended with Spain's David Ferrer leading defending champion Novak Djokovoic 5-2 in the first set.
Rusedski believes the delay should play into the hands of Murray, who is bidding to become the first British man to win a Grand Slam singles title since Fred Perry won the U.S. Open in 1936.
"It's a huge advantage - absolutely big time - that Murray has already finished his match," Rusedski told Sky Sports.
"He's through and will have a day off, while Ferrer-Djokovic is going to be a long match, no matter who wins it. Murray's saying 'David Ferrer, keep going, keep doing what you're doing and go as long as you want!'
"So it's advantage Murray because he can already get his preparation ready whereas the other two still have a lot more time on the court.
"That could play a big, big part in deciding who is going to win this tournament and right now it looks as though Andy Murray has his best chance ever to win a major."
Magnificent
Murray lost a closely-fought first set but took control from the start of the second to build a 4-1 lead as Berdych became increasingly frustrated with the windy conditions.
The Scot secured another two breaks of serve at the start of the second set to lead 3-0 and although Berdych saved four set points at 1-5, Murray gained a decisive advantage.
Berdych rallied in the fourth set and led 4-1 in the tie-break only for Murray to battle back and clinch victory in a manner that greatly impressed Rusedski.
"It was a magnificent performance from Murray," he reflected. "He didn't start great so Berdych was the better player but his tactics were brilliant in the second and third set before the fourth set really became a dogfight.
"Mentally Murray didn't have any lapses while you felt with Berdych after winning that first set that he dropped a level and, all of a sudden, that's when Murray lifted his game. That was the big difference - the concentration and the belief.
"It felt like Murray had lost the momentum in the fourth set tie-break but he showed great tenacity from 5-2 down in that tie-break to come through and win it.
"What a moment for Andy Murray and his family and his girlfriend - to be back in a US Open final. You could tell from his reaction what it meant to him. It was sensational stuff."
Complaining
Rusedski felt the match was an opportunity missed for Berdych and he believes the Czech must now go away and work on developing his levels of concentration.
"The start of the second set was important," he said. "Berdych played two very poor points to start with and Murray lifted his game.
"That combination meant all of a sudden he lost confidence and after losing the second set he didn't feel like he could bounce back.
"He was complaining mentally about the conditions, he really got low and what he had to do was remember what he did in that first set.
"He needed to come out in that third set strong and really show what he was about and play like he did in the last few games of the match and had he done that, he might have been in the finals.
"But that just shows the difference between them - that's why Murray's in Major finals and why everybody says 'this is the best guy yet to win a major', while on the other hand everyone looks at Berdych and sees a slight weakness, a slight lack of concentration and those small margins make a huge, huge amount of difference."