Beyond limits
By Tim Clement - Twitter: @SkyTimClement. Last Updated: August 16, 2012 2:58pm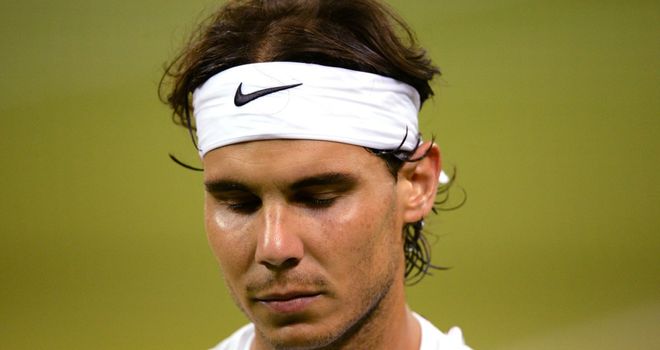 Rafael Nadal: Will miss the US Open through injury
Victim of one's own success is a far too simple way to look at it, but if you're looking for a cliché for Rafael Nadal's problems then it seems to fit best.
The Spaniard's knee problems have returned vengeance towards the back end of another gruelling campaign, forcing him to miss the Olympics, two Masters 1000 events and now, most worryingly, the US Open.
The 26-year-old epitomises what can be gained from hard work and graft, turning his body into a machine capable of maintaining intense and fierce competition hour after hour.
His bullish build and relentless approach has made him the most feared and respected man on tour, be it as a hitting partner or a Grand Slam final opponent.
Super human
It is that intensity which has been reared by his often unforgiving coach Uncle Toni but undoubtedly stems from an innate desire to be not just one of the best, but the very best.
That formula has enabled standards to be met and surpassed, breaking records and toppling the man considered the game's greatest ever over-and-over again.
However, yet again, it is taking its toll.
The seven-time French Open champion might be seen as super-human by his admiring followers but recent developments remind us that he is very much human, a human who has taken his body to and beyond the limits of its capabilities.
The 'King of Clay' will never be described as the most talented player of his generation, Roger Federer, Novak Djokovic and, some may argue, Andy Murray all have more in their shot-making repertoire.
It is a clear awareness of this that has driven Nadal to put in the extra hours on the practice court and in the gym. Sadly the evidence of that graft lays painfully evident in the tendonitis-ridden knees of the 11-time Grand Slam champion, proof as clear as any test result as to what he has put his body through to gain such powers.
Innovation
What Uncle Toni and his nephew developed on the practice courts of Menorca and the gym has been an innovation in a game constantly evolving.
While clearly boasting impressive genetics, with his other uncle Miguel a former Spanish international footballer who acquired the nickname 'The Beast' for his immense physicality, Nadal has utilised his strength to conquer his competitors.
Armed with immense power and a perfected technique, Nadal mastered the art of ripping top-spin rotations onto the ball to improve shot percentages and drag opponents around and off the court.
That iconic style will be sadly-missed from the tour as long as the knee problems remain and take something significant away from the US Open.
From a British perspective it clearly improves Murray's chances of ending his wait for a Grand Slam title at Flushing Meadows, although arguably doing more for whoever heads in as world number one with fourth seed David Ferrer the replacement in their half of the draw.
However, nobody will want to see Nadal's problems continue to ravage his career and raise questions over his future in the game which he has given so much.