Williams hails 'sweet' victory
American thanks her family; Polish runner-up proud of achievement
Last Updated: July 7, 2012 8:00pm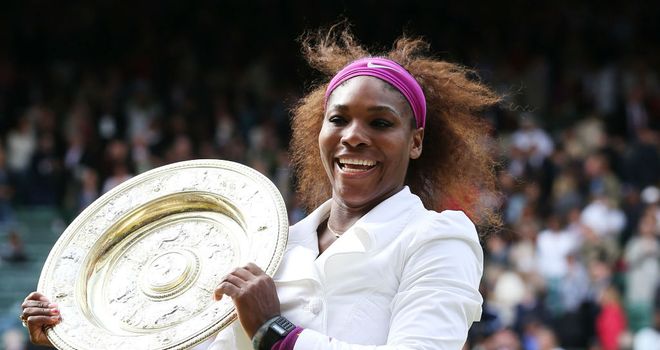 Serena Williams: The 30-year-old suffered blood clots in her lungs
Serena Williams revealed she thought she'd never be a winner again after battling a life-threatening illness to celebrate a fifth Wimbledon women's singles title.
Williams was laid low by pulmonary embolism - dangerous blood clots in her lungs - which kept her out of the sport for a year until the eve of last year's tournament.
The former World No.1 also struggled to recover from a cut foot she suffered at a restaurant in Germany.
But the American buried all those fears about her future with a hard-fought 6-1 5-7 6-2 win over Polish world number three Agnieszka Radwanska to claim her 14th Grand Slam title.
"I can't describe it. I almost didn't make it a few years ago. I was in hospital and I thought I'd never be here again, so this makes it so worth it. I'm so happy," said Williams, who became the first 30-year-old since Martina Navratilova in 1990 to take the title at the All England Club.
"It's all the sweeter. I was so down but you never give up. You can continue.
"Thank you, guys in the box today, daddy, mum - I can't name everyone one but thank you from the bottom of my heart," added Williams, who was contesting her seventh singles final at SW19.
Proud
Radwanska, who will rise to number two in the WTA rankings, was bidding to become the first Pole to win a major title.
The 23-year-old had been laid low by a respiratory illness in the days leading up to the final, but battled hard on Centre Court before losing.
It was her third defeat in three matches against Serena, but the first time she had taken a set off the champion and was almost overcome with emotion at the end.
"I am very proud to have got to the final. I am still shaking but I tried, it just wasn't my day," she said.
"I have been unlucky here, playing in the wind and the rain, but I still played some great matches. I think it was not my day but I'll try again next year."