Stuck in first gear
Sky Sports' Tim Clement fears that Andy Murray's easy progress could be to his detriment.
By Tim Clement
Last Updated: 26/01/12 2:26pm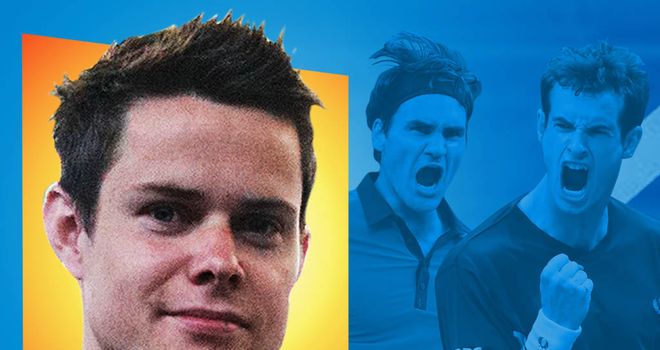 Andy Murray could not have asked for an easier route through to the Australian Open semi-finals, but he might well be wishing for a tougher one come his date with Novak Djokovic.
It tells the story of the Scot's quarter-final clash with Kei Nishikori that he was able to spurn 11 break-points and yet still break seven times - crucially at the first opportunity in each set.
In truth, it was all too easy for Murray yet again, but things are about to get much, much tougher.
The concern is, having hardly had to engage second gear so far at Melbourne Park, how quickly Murray, a notoriously slow starter, will be able to find the top of his game against the world number one.
The Scot managed to get just 44 per cent of first serves in against Nishikori, offering up 10 breaks points - compare that with the meagre four that Djokovic allowed world number five, and one of the great returners of the game, David Ferrer, and you are presented with a pretty bleak picture.
Remarkable
Then there are the familiar questions as to whether his mental strength will cope with the stress and frustrations that will inevitably be heading his way, that's where the appointment of Ivan Lendl either looks a masterstroke or a waste of time.
Murray insists he is relishing the prospect of testing himself against the game's best, and from one angle he should be the one free from the burden of expectation against the reigning champion, a player who took the game to a whole new level last year.
But this is Murray's chance to set the record straight after his defeat in Melbourne last year provided the catalyst for Djokovic's remarkable 2011.
Reflections on last year have thrown up the big question as to how Djokovic accelerated past Rafael Nadal and Roger Federer while Murray stagnated.
The answer is a complex one but the final at the Rod Laver Arena 12 months ago is a key part of it.
You sensed that Djokovic, who has already triumphed on that very stage in 2008 and ousted Federer in the semis felt like he belonged there, he certainly played with the sort of confidence that implied so.
In contrast, Murray failed to win a single set in his previous two major finals appearances, while in the semis overcame Ferrer, who has never reached a major final.
'The Wall' had done Murray somewhat of a favour in ousting his compatriot Nadal, the man who had prevailed in their previous final-four meeting and did so again in the other three 2011 Slams.
Djokovic triumphed to a leave Murray with a 0-9 set record in Slam finals before heading off on a 41-match unbeaten run while the Brit, in contrast, had to wait until the grass season to claim his first title at Queen's.
It came as all the more remarkable given the Serb had failed to win anything of note in 2010, no Slam, not even one of the nine Masters titles.
On top of that Murray had prevailed in their previous three meetings, two of which were clashes in Masters finals.
But come the start of the 2012 campaign we were left to reflect on one of the greatest campaigns ever produced by a player, mesmerised by a season where Djokovic won a record five Masters events and three Slams.
For Murray, Friday's semi-final represents the chance for him to wrest the momentum and confidence from Djokovic which he'll hope will see him go from the game's nearly man to the golden boy.
Not that we should read too much into it, but it was interesting to learn that the Serb opted to train behind closed doors on Thursday - doing little to quash concerns over problems he appeared to have with his back and hamstring against Ferrer.
Anyway, enough about Murray, I had quite a day myself on Wednesday as I enjoyed the company of two of the game's greats. Rod Laver, the only player in the history of the game to win the Grand Slam, first as an amateur in 1962 and second as a professional in 1969, held a press conference on Wednesday morning.
Advice
The Rocket from Rockhampton shared his experiences of a career being on Tour before and after the initiation of the Open Era, coming across as genuinely moved and almost amazed at what he achieved - both at the stadium that now carries his name and around the world.
Next on the menu was Martina Hingis, the youngest player ever to win a major title, having landed Australian Open in 1997 at the age of 16.
It's remarkable to think that she won all but the French Open, where she lost in the final, and makes you wonder just what she could have achieved had the focus remained.
The main thing to come out of her appearance was some advice for the soon to be former world number one Caroline Wozniacki, warning she will have to be more aggressive if she is to end her wait for a Grand Slam after going out in the final eight.
She said: "Today you just can't let yourself get pushed back. She has to try to move in, step forward, otherwise there is always going to be somebody coming on top of her at a Grand Slam."
After all that, I managed to get a game out on Court 18 at Melbourne Park, but unfortunately I have to report that myself and The Telegraph's Simon Briggs came unstuck against a couple of American journalists.
On that sorry note, I'll sign off with head bowed, hoping that Murray can carry British hopes more successfully.