Ross Hutchins admits he is 'intrigued' by the appointment of Amelie Mauresmo as Andy Murray's new coach, as the British No 1 begins his preparations for the defence of his Wimbledon title.
The world No 5 split with Ivan Lendl in March and went into the French Open at Roland Garros without a recognised coach.
His assistant Danny Vallverdu, fitness trainer Matt Little and his girlfriend Kim Sears were Murray's support team during his time in Paris.
Not even the lack of a top class coach deterred the two-time grand slam champion from reaching the semi-finals before being humbled by the 'King of Clay' and eventual winner again, Rafael Nadal.
With Wimbledon just a few weeks away, the Scot appointed French former women's world No 1 and 2006 Wimbledon champion Mauresmo as his new coach, albeit only for a trial period during the grass-court season.
It didn't get off to the best of starts as he suffered a surprise third round exit at the Aegon Championships to wily Czech Radek Stepanek.
Mauresmo, a former Wimbledon champion herself, kept a poker face as the match headed towards a disappointing conclusion, but she would have noted the challenge that lies ahead over the next 10 days before Murray opens Centre Court proceedings at the All England Club on June 23.
Intriguing appointment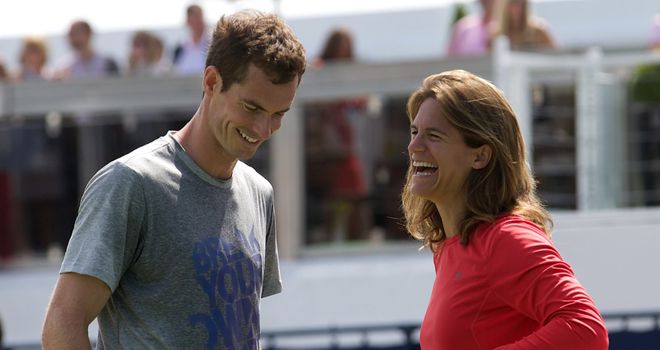 In an exclusive interview with Skysports.com, Hutchins, who is tournament director at Queen's Club, insists the partnership can thrive just in time for the start of Wimbledon.
"It's an intriguing appointment," he said. "I think it's a very smart appointment - it's a very brave appointment. I'm proud of him that he's gone out there and thought that he's going to do something different and out of the ordinary, but I think it's fantastic.
"Having someone who is going to bring something different in terms of an opinion is always what top players need if you're always winning.
"If you're always winning a lot of the top matches like Andy does. I mean 14 grand slam semi-finals and two grand slams - I don't need to tell you what he's done, but he's done so much winning.
"To have someone come in who has a different opinion or different view of tennis, which you must have from playing the women's game at such a high level and understanding of how to win on grass, it just all combines into something knowledgeable in helping Andy succeed and to bring a different aspect of tennis.
"He'll pick and choose what he wants to hear and add that to his game to make the changes he needs to do in order to stay at the top of the game.
"I think all coaches have strengths and weaknesses and I don't know Amelie. I met her last year briefly and I met her again (Tuesday) for a longer chat. It's probably not for me to say what type of coach she is because I've never worked with her, but I'd imagine she's pretty good at both.
"Knowing how she plays, watching a lot of her matches over the years, she changes the pace well, she comes forward, she's very good on all surfaces, she's mentally very strong.
"You can't get to No 1 in the world or be a grand slam champion and the success that she had in the rankings without being mentally strong also. She seems like she had that as a player, but I've never worked with her."
"Someone who wins on all surfaces, like Mauresmo, like Lendl and Andy, you have to be tactically sound, so you have to adjust your game to all surfaces."
Wimbledon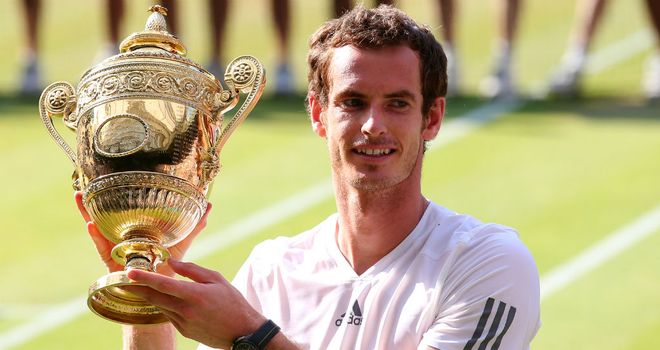 Asked if Murray can retain his Wimbledon crown, the 29-year-old Hutchins said: "Absolutely, he could. It's by no means easy, it's by no means a guarantee, but I believe he's one of the best three players in the world and has been for the past four years.
"If he is able to get through the first week he will put himself in a position to be in the mix and that is all you can ask for, to put yourself in the quarter or semi-finals and really try on the day to feel good.
"When any player is in the quarters, semi or final of a tournament you're feeling good because you've won three or four matches, so you're confident.
"That's what Andy needs to do, as he always does, and that's to get himself through the first week and put himself in the mix where he feels comfortable and then it's down to the day on whether he can win ... it's not a 'yes', but it's a 'I hope so'."
Last June Hutchins had just completed his final chemotherapy session after being diagnosed with Hodgkin's lymphoma cancer in late 2012, but was committed to beginning his journey back to becoming a Davis Cup regular again.
Hutchins' target was to get himself fit and back playing with doubles partner Colin Fleming for Great Britain's Davis Cup team.
The pair had reached two Grand Slam doubles quarter-finals together in 2011 as well as winning the doubles rubber in Britain's previous three ties before Hutchins' illness.
Davis Cup
In March, he was included as a reserve by British Davis Cup captain Leon Smith for their quarter-final tie with Italy in Naples and now he is back playing doubles events at ATP events with Fleming.
"I'm enjoying it a lot actually," said Wimbledon-born Hutchins. "It's been a fascinating four months where I've had to do various things which I've not had to do before.
"On site here I've really enjoyed being involved in the scheduling and the players and the actual on-site control with my managing director Stephen Farrow and the team that we have here - it's been a great experience.
"No (it hasn't been exhausting). I think because the team here is so exceptional, it's actually faultless here - we've done well to put together a good team.
"I feel good, I don't feel that I'm tired or drained at all and I'm back playing. I played this year at Dusseldorf, Munich and the French Open.
"Being in Italy was a great experience. I think all of the players that are in the Davis Cup team, whether it be me, Andy, James (Ward), Dan (Evans), Colin, we all love playing for our country.
"We've all got Davis Cup records and to put ourselves 2-1 up with Andy to play was where we wanted to be at least and then (Fabio) Fognini came out and played a blinder. What a match he played! Fognini in Italy was very, very tough to beat, but for me personally to be there and witness it all was really special and memorable after everything that happened.
"I never felt apart from the team. I always felt they were always involved with me and I had a very close relationship with everyone in the team, even when I wasn't playing in the matches.
"To be actually selected as part of the four was exceptional and was really the highlight for me."
With Smith taking over the captaincy in 2010, he led GB to the quarter-finals of the competition for the first time in 28 years following a famous victory over the USA in San Diego. It was an eighth win from nine matches for Smith, whose reputation has grown with every tie.
And despite defeat against the Italians on clay, Hutchins rates captain Smith as one of the very best coaches he has worked under.
"He's brilliant," admitted Hutchins. "He's outstanding because results don't determine how good a person is at their job, but I think it adds to it and it almost secures proof to the outside world that someone is very good, so results have been excellent.
"Team management, man management, what he says on the chair, the environment he creates, how he makes people want to play for him and the country. The way he handles himself in the media always impresses me. How he handles himself on the courts, tactically, the way he trusts people to do certain roles - his support team.
"He knows his strengths and weaknesses and he knows how to get the best out of his players and that's the art of being a good coach - being able to each player feel comfortable and give their best and to drag the best out of them."