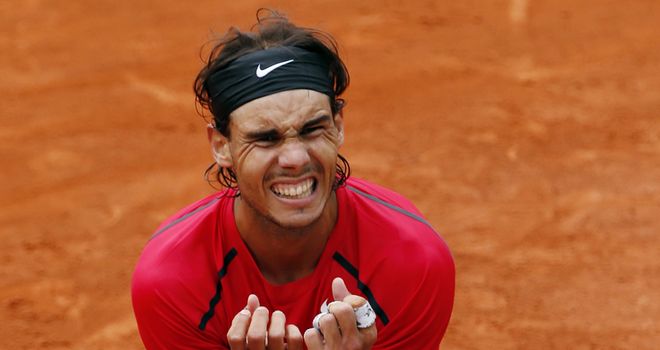 Rafael Nadal: Beat Novak Djokovic to secure a seventh Roland Garros crown
Rafael Nadal admitted he had been affected by nerves during the French Open final and was delighted to finally come through and clinch a record-breaking seventh Roland Garros crown against Novak Djokovic.
The Spaniard's 6-4 6-3 2-6 7-5 victory, which was completed on Monday after being rained off last night, took him past Bjorn Borg as the first man to win seven French Open titles.
Nadal's win also meant Djokovic was denied a historic fourth slam title in a row after wins over his rival in London, New York and Australia, leaving Don Budge and Rod Laver as the only men to have accomplished the feat.
"For me it's a really emotional day to win another time here," Nadal said afterwards.
"Sure the seventh is important because I am the player who has more today, but that's after, the most important thing is to win Roland Garros, whether it's the first, second, third or seventh.
"That's what makes me very happy. I'm very happy with the way I played today, I was much more aggressive."
Nadal was visibly furious that play had continued as rain fell on Sunday evening and he admitted coming back today had been a difficult experience.
"It was very hard for me since yesterday," he continued. "I've been playing this match since Friday afternoon, it's a long time preparing, and then yesterday with all the stops.
"I really felt nervous. My feeling was I wasn't ready for the match until three minutes before. That was the first moment since we stopped yesterday that I really felt that I am here to play. I was more nervous than usual because of the situation.
"It was clearly a good thing for me to stop the match yesterday because of the conditions. The last couple of games, the conditions of the court was not the right ones to play the final of a grand slam. We had to stop.
"The ball was heavier than ever. In my opinion the conditions were much more favourable for Novak than for me. And I'm playing against the best player in the world."
Djokovic proud of efforts
For his part, Djokovic insisted he was more than satisfied with his efforts at the tournament despite falling short in his own bid for history.
Having been taken to five sets by both Andreas Seppi and Jo-Wilfried Tsonga, the Serbian world number one claimed he would take the positives from a first Roland Garros final appearance.
"This has been a strange final with delays and conditions and two days' length of match," declared Djokovic. "I'm just happy to be in this position, to be playing the final at Roland Garros.
"I could easily have lost the match in fourth round or even more against Tsonga, but I managed to come to the finals for the first time in my career. I should be happy about that, of course.
"I will be and I am, but in this moment I am disappointed about this loss because I thought I started to play better in the third set and felt like I could take this match to a fifth set, and then everything could be possible.
"But unfortunately there was a rain delay yesterday when I started to feel really good on the court. But I don't want to find an excuse in that, because the first rain delay maybe helped me a little bit, the second helped him. So that's the way it goes, and the better player won today."
Djokovic, meanwhile, insisted the lost opportunity to hold all four titles did not make the disappointment worse.
"The disappointment is there because I lost the match," he continued. "Yes, there was obviously the opportunity to make history as well, but it was not a primary thought in my mind."
Djokovic had been clearly in the ascendancy last night and he would have been happy to try to complete the match then.
"They were really bad, the conditions yesterday," added the 25-year-old. "But I was ready to continue on and play last night.
"I thought around 8pm the rain stopped, but they decided to stop because the weather conditions were not good and the court was not in a good condition. So I was okay with that. I am not putting the blame on anybody."