Ready, Steady, Freddie!
By Mark Kendall - Twitter: @SkySportsMK. Last Updated: 30/11/12 11:12am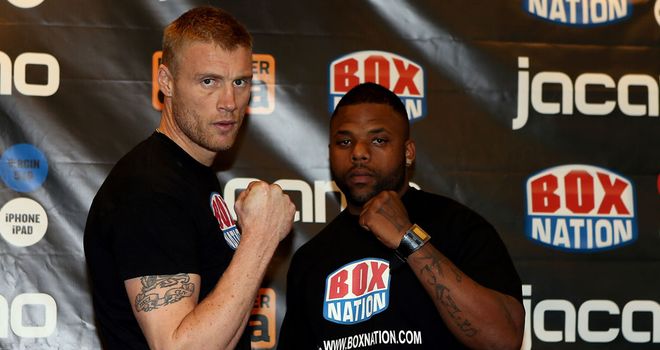 Andrew Flintoff (L) takes on Richard Dawson (R) on Friday night
Andrew Flintoff enters the ring for the first time on Friday night as he makes his eagerly-awaited professional boxing debut. We take a look back at the journey he has undertaken.
The one-time all-rounder takes on undefeated American Richard Dawson at the MEN Arena and, via the videos below, we take a look back at the journey he has undertaken to fulfil his boxing dream.
LEARNING THE ROPES
After confirming his intention to become a professional boxer, former England cricketing great Andrew Flintoff starts out on the long hard road to fight night.
Freddie admits he was nervous as he began sparring for the first time and learning to take punches in anger... especially as his sparring partner weighed 19 stone!
GLENN CHECKS IN
Sky Sports boxing pundit Glenn McCrory admits he was one of the sceptics when he heard Flintoff had decided to take up boxing professionally.
McCrory went to check up on Freddie as he continued his preparations for his debut under the watchful gaze of trainers Shane and Barry McGuigan and Flintoff explained his motivations for taking up the challenge.
SILENCING THE DOUBTERS
Plenty within the boxing fraternity had their doubts when Flintoff announced he was to get in the ring with some labelling the fight a "joke".
However, Freddie and Barry McGuigan insist they are taking the opportunity extremely seriously and believe it will prove a chance to celebrate the sport and the dedication of boxers everywhere.
BACKING FROM HATTON
Flintoff acknowledges that Ricky Hatton has always been an idol of his and one of the inspirations behind the decision to take up his latest challenge.
Hatton may have lost his comeback fight after a three-year absence, proving just how tough a task Flintoff faces, but the 'Hit Man' has nothing but praise for Freddie and insists he nobody should doubt the dedication he has demonstrated.
24 HOURS FROM FIGHT NIGHT
The waiting is nearly over and Flintoff admits he cannot now wait to step into the ring having met opponent Richard Dawson for the first time at a press call.
Freddie has shed over 40 pounds for the fight and claims there is a mixture of nerves and excitement as he prepares to step between the ropes for the very first time at the MEN Arena.
Subscribe
Most Popular