Quotes of the week
Who's been saying what in a sporting week of verbal sparring?
Last Updated: 30/11/12 9:33am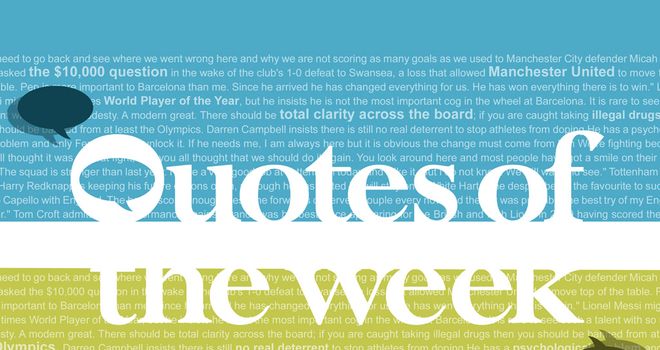 One day we'll dedicate a whole QOTW solely to Joey Barton
"Howard (Wilkinson) was an absolute perfectionist. He wanted his players to be disciplined and adhere to a certain team pattern. Eric liked to play to the crowd. That wasn't Howard's way at all. Eric just didn't fit it. Our fans were bothered. They were really bothered. But I would do exactly the same again." 20 years on from selling Eric Cantona to Manchester United, Leeds United's Bill Fotherby explains his decision.
"I always said I'd struggle to come back and play in England because I've played for the biggest club in the world and biggest club in England - Manchester United. So I couldn't see myself playing for any other Premier League club, but you never know. I've got options on the table." David Beckham puts half of the Premier League on red alert.
"You read the local papers and no one tipped us to win both games. The glass is always half-empty in Leeds, but it's nice to prove them wrong. I think Dom Matteo said we might win all three this week so I hope he's right." Neil Warnock. That'll be the Dom Matteo who writes for local paper the Yorkshire Evening Post.
"Steven Gerrard was assaulted for the first one. It was frightening how the ref didn't give it. And then he missed Luis Suarez getting kicked by William Gallas. It's incredible that we haven't had a penalty all season. I don't know what the players have to do to get one. Everything went against us because Clint Dempsey dived to win the free-kick that led to Gareth Bale scoring their second goal." Brendan Rodgers loses his trademark cool after Liverpool's defeat to Tottenham.
"In my defence, it is very difficult to do a press conference in Scouse for a room full of French journalists. The alternative is to speak like a 'Allo Allo!' character which is choose. It's simply a case of you had to be there. #youstupidwomen!" Joey Barton defends the indefensible.
"Perhaps I shouldn't say it, but I'm maybe a little too intelligent to be a footballer." Joey 'the gift that keeps on giving' Barton.
"The uneducated Joey Barton is fascinating for the degree of his stupidity, his ego and his megalomania!" Mikael Silvestre needs some convincing.
"The club regrets not having given more consideration before issuing a statement on the evening of Sunday 28th October. The club also regrets the subsequent impact the intense media scrutiny had on Mark Clattenburg and his family." Chelsea attempt to draw a line under the most unedifying of affairs.
"I don't hear what the fans say or do when I'm concentrating as a manager on a game of football. They shouldn't be doing things like that, should they? But it's the least of my worries at the moment. I never heard it so I don't know. What do you want me to say? If I didn't hear it, I can't condemn it. I'll make a comment after I've listened to what they've said. I don't want to be a political animal. I'm here to talk about football, not what fans are saying or singing." Sam Allardyce plays deaf when asked about West Ham supporters singing songs about Adolf Hitler.
"I have a great relationship with the West Ham United supporters, from my first spell at the club and again now I am back on loan here. This why I was very disappointed to hear some of the songs yesterday and it was embarrassing." Yossi Benayoun registers his disappointment.
"It is difficult to imagine what goes through my head now even for myself. I am full of adrenaline and if you poke me now I wouldn't feel it. It was an incredible race. A lot of people tried to play dirty tricks [during the season], but we did not get distracted by that and kept going, and all the guys gave a big push right to the end." Sebastian Vettel becomes the youngest driver in history to win three world titles - at six years younger than Ayrton Senna.
"A fighter knows when it's not there anymore, and it's not there. I'm not going to put myself through that torture again, and I'm not going to put my family through it. If I don't draw a line in the sand now and call time on my boxing career, I'm never going to do it." Ricky Hatton bids farewell to his boxing career for a second time.
Subscribe
Most Popular