Get into the grooves
We've become accustomed to the idea of rock stars wielding a golf club as well as a guitar. But it isn't just a one-way street. Golfers (well, some!) are heavily into their music too. Dave Tindall looks at some of the often unexpected links between golf and music in this 1-18.
By Dave Tindall. Last Updated: 24/11/12 8:16am
Music and golf have often crossed over in popular culture.
1) The Beatles and The Rolling Stones have both been involved in unlikely golf-themed photo shoots (see image at the top of page). The picture of the Beatles playing golf was used on the Italian 7-inch of 'Eight Days A Week/I'm A Loser' although there's no evidence of them enjoying the game in real life. That's highlighted by Paul McCartney's ridiculous putting stance (more a knock-kneed forward defensive cricket shot). The Stones, famous for loving cricket rather than golf, outcool the Beatles with their own golf pose, Brian Jones (in a chocolate polo-neck with putter slung over his shoulder) looking particularly fetching!
2) Staying on The Beatles, any guesses where Michelle Wie got her name from? Yes, parents Byung-wook and Bo were huge fans of the Fab Four and named their daughter after the Beatles song 'Michelle', the final track on side one of 'Rubber Soul'. As for Michelle's own musical tastes....in March this year she said: "All kinds, from Justin Bieber to Lady Antebellum to The Jakes."
3) The official PGA Tour biography of Matt Every says: "Favorite band is Oasis. Says his dream foursome would include Oasis band members Liam Gallagher and Noel Gallagher and 'some sort of counselor so we could get the best band in the world back together.'" Every, a two-time runner-up on the PGA Tour this year, even went as far as naming his baby after the Oasis frontman. Liam Every was born in July this year.
4) Talking of Liam Gallagher, in an interview with The Times in 2011 the ex-Oasis and now Beady Eye singer explained how he'd been experimenting with golf. "I love making proper contact with that f***ing ball. If you whack it, it f***ing goes, man. If you get it right it goes miles," he said. "I spend too much time in that f***ing sand pit but there you go ... it's a learning curve. And there's a drink-up after." His fashion label 'Pretty Green' also has obvious golf connotations and has been worn on the course by fashion-conscious golfers.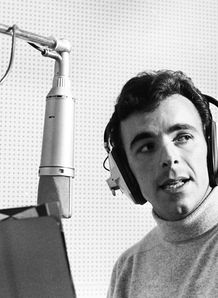 Take it away Tony....
5) PGA Tour stars Bubba Watson, Rickie Fowler, Hunter Mahan and Ben Crane teamed up to form a joke PGA Tour boy band in 2011 - The Golf Boys. Their single 'Oh Oh Oh' has had over 5 million views on YouTube. Mahan's surprisingly exuberant performance in the video suggests there's more to him than a robotic US Tour golfer. And that was borne out in a June 2011 interview with the New York Times in which he revealed a huge love of music with iPod favourites including The Clash, Florence And The Machine and Linkin Park.
6) Which Open winner has released an album? The vast majority will correctly answer John Daly, whose country-inspired 'I Only Know One Way' is available on iTunes (he also made 'My Life' in 2002). But did you know that 1969 Lytham champion Tony Jacklin is also immortalised on vinyl. Jacklin released an album of Jazz standards in 1971 called 'Swings Into', numbers including 'Come Fly With Me' and 'Edelweiss'. Tone does a decent job of holding a tune and the album is available for less than a tenner on e-bay.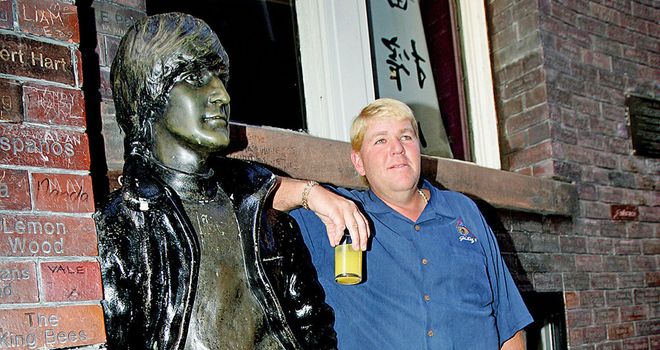 John Daly outside the legendary Cavern Club in Liverpool in 2006.
7) Vijay Singh is big fan of Pink Floyd. He once told ingolfwetrust website that the best Floyd album to listen to during a long practice session would be 'The Division Bell' (their 14th and final studio album, released in 1994). In a quick quiz, Vijay is aware that one of the original members has died but can't name him. (Answer: Syd Barrett in 2006). Incidentally, Pink Floyd's Roger Waters is a mad-keen golfer and a member at prestigious Sunningdale.
8) Tiger Woods doesn't veer too far from the beaten track when it comes to music, with a rather safe (or downright bland) list of favourites. His chosen acts are listed as "Prince, Janet Jackson, Madonna, Nickelback, Van Halen and Hootie and the Blowfish." Nickelback, Tiger?
9) Luke Donald on a recent Inside The PGA Tour feature said: "I like some good English bands like Coldplay and the Killers." Luke, the Killers are American! In fact, maybe Donald should meet up with Killers frontman Brandon Flowers, a big golf fan who is the cousin of PGA Tour player Craig Barlow.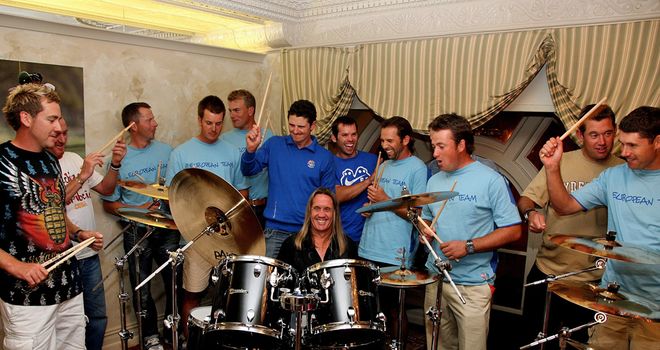 Nicko McBrain of Iron Maiden plays drums with the European team prior to the 2008 Ryder Cup.
10) Nick Watney, the softly spoken American who possibly epitomises the notion of a conservative white American golfer, is described by caddie Chad Reynolds as "the foremost authority" on rap on the PGA Tour. To be fair, he may not have much competition and Nick is a little wary of the label. He told Sun Sentinel Columnist Mike Berardino: "I don't support a lot of the lyrics but I like how it sounds. I just like the beats." Watney also talks rap and hip hop in a recent Golf Digest feature (August 2012). He tells writer Jaime Diaz that his favourite artist is Jay-Z, describing him as "the Jack Nicklaus of rap" due to his longevity. Watney also reveals that Bill Haas and Vaughn Taylor are part of a "very small minority" of rap lovers on the US Tour. Dustin Johnson can be added to that after saying he listens to rap "all the time".
11) Phil Mickelson's original website (now replaced) had a surprising revelation in the 'Phil's Likes' section. Whilst he told us that wife Amy loved Janet Jackson, he revealed that his own favourites were US alternative rock band The Lemonheads. Soon after, Phil named his new-born son Evan - a coincidence or did he get the name from Lemonheads frontman Evan Dando? There's been no reply yet from his management agency.
12) So what of Rory McIlroy's preferred choice of listening? The world number one told Shortlist.com earlier this year: "I am a big fan of Swedish House Mafia and dance music in general, which maybe isn't normal golf pro taste." At least he probably would have had an ally at the recent Ryder Cup in the shape of European teammate Nicolas Colsaerts. The Belgian says on his website: "My iPod is in constant evolution but to be fair, it has about 70% of deep house music on it."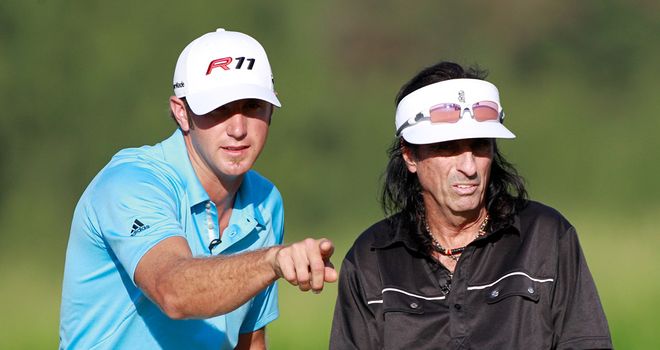 Rap fan Dustin Johnson with rocker Alice Cooper, a regular in pro-ams.
13) Ryan Moore, a winner in Las Vegas last month, was born and raised in US grunge capital Seattle and the big music scene there has clearly had an influence on him. He said in 2010: "I'm very much a Seattlite as far as music taste goes. I can go for the hard or soft. What I'm listening to at the moment: MEW, Fleet Foxes, Phoenix, Manchester Orchestra, The Night Gowns." Asked last week about his very latest likes he listed more West Coast-based indie/folk/rock bands - Imagine Dragons, Youngblood Hawke and The Lumineers - as well as Canadian electronic duo Purity Ring.
14) Colin Montgomerie was Sue Lawley's guest on Desert Island Discs in 2000. His choices included 'Waterloo' by Abba, 'Angels' by Robbie Williams and 'Sailing' by Rod Stewart. Monty recalls his 11-year-old self watching Abba winning the 1974 Eurovision Song Contest with Waterloo and says: "Everyone's a sort of closet Abba fan without really admitting it." Monty also likes a good theme tune. His eight chosen records include the themes from The Great Escape and Chariots of Fire.
15) US Ryder Cup star Keegan Bradley is a big fan of English folk-rockers Mumford & Sons. He declared in a recent tweet: "Mumford and sons has done it. They r officially the greatest band of all time.@Mumfordofficial. Awesome!" The only other band he's liked on Facebook are another English band, Muse.
16) The Stone Roses are one of Paul Casey's top bands and this was before they made their triumphant return earlier this year. Casey is also a big fan of lead singer Ian Brown's solo work and showed his indie/alternative/dance leanings when asked the 'what's on your iPod?' question in 2011. Casey told the Surrey Comet: "Club Foot - Kasabian. Blue Monday - New Order. She Sells Sanctuary - The Cult. Bittersweet Symphony - The Verve. Breathe - The Prodigy."
Kenny G (regarded as music's best golfer) plays his sax to Tiger Woods and Charles Howell.
17) Singers who love to golf: Alice Cooper ("golf saved me from the demon drink") and Meatloaf both played in a special Ryder Cup challenge match at Celtic Manor in 2006 while Judas Priest guitarist KK Downing has even built his own championship course in the grounds of his Shropshire mansion (see article for a recent match we played with him). Neil Young has played in the PGA Tour's pro-am at Pebble Beach while Justin Timberlake now has a PGA Tour event named after him.
18) And to finish with, some randoms. Geoff Ogilvy is a Led Zeppelin fan (he was once shown playing "Stairway To Heaven" on Inside The PGA Tour. Major winners Shaun Micheel and Michael Campbell are both into US face-painted rock band KISS. Shortly after winning the 2004 Open, Todd Hamilton listed Maroon 5 as his favourite band (can you picture him dancing to 'Moves Like Jagger'?) while 2003 Open champ Ben Curtis likes a bit of Metallica. Paul McGinley used to love pogoing to Irish punk rockers Stiff Little Fingers.
Subscribe
Most Popular