Pedersen won't be back
Dane not in Birmingham picture
Last Updated: 03/10/12 10:23pm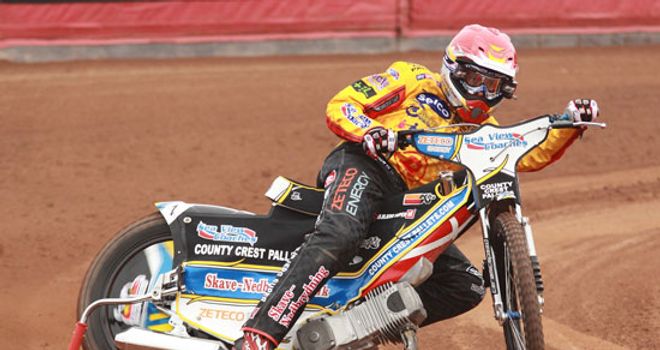 Bjarne Pedersen: Won't be back at Birmingham (Pic credit Claire Swatman)
Danish star Bjarne Pedersen has confirmed that he will not be returning to Birmingham Brummies next season.
The Grand Prix ace signed for the club on loan from Poole Pirates last winter, but he has not enjoyed the best of seasons at Perry Barr - despite the fact they made the play-offs.
The former Danish champion has been ruled out of Brummies' Elite League play-off semi-final, second leg at Swindon on Thursday night due to an ankle injury, but he still hopes to be fit to take his place in the FIM Torun SGP of Poland on Saturday.
Brummies stated in an official press release that Pedersen won't return to the club next season and he has followed that up with his own confirmation.
"For sure, there is no chance I will return to Birmingham next year. I don't want to start putting a lot of things into the media, but I can easily say today that I won't be part of Birmingham Speedway next year," he told speedwaygp.com.
"A lot of things have gone on and been said this year. I can see Phil Morris has already started putting some things out. I can say that I am 100,000 percent sure I will not return to Birmingham for next year.
"I'm looking for a new club and my average is pretty low now. I already feel ready to get back and show people I can put points on my average again.
"My mind is open. Of course I've got a couple of clubs at No.1 and No.2 on my list. Hopefully it will go one way or the other. Only the future will show how the rules end up and what spaces there are. But I'm really looking forward to getting a fresh start in Britain."