Hammers into third
Lakeside on-form
Last Updated: 12/08/12 10:57am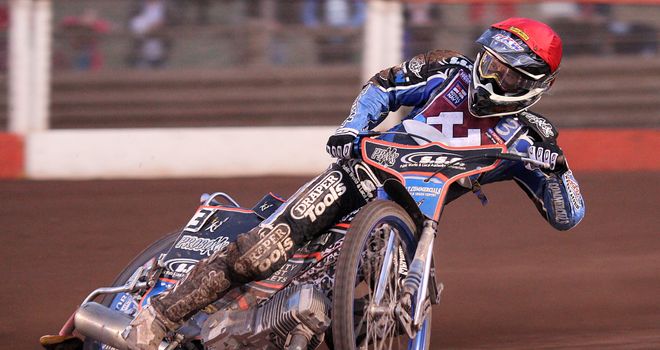 Davey Watt: Led Lakeside home (pic credit TSG Photos)
Lakeside Hammers moved up to third in the Elite League after a comfortable 53-39 win over Birmingham Brummies.
RESULT AND SCORERS:
LAKESIDE 53
Davey Watt 10+1, Peter Karlsson 10+1, Jonas Davidsson 9, Justin Sedgmen 7+2, Stuart Robson 7+1, Kim Nilsson 6, Robert Mear 4+1
BIRMINGHAM 39
Sebastian Ulamek 13+1, Ricky Ashworth 7+1, Bjarne Pedersen 7, Joe Screen 6+1, Martin Smolinski 6, Carl Wilkinson 0, Daniel King r/r
Number one Davey Watt turned in a superb display, top-scoring with paid 11, but Birmingham struggled with only Sebastian Ulamek really impressing with an excellent return of 13.
Lakeside dominated early on and had a 17-7 lead after four races was trimmed back to 32-24 after nine.
A late tactical ride for Ricky Ashworth in Heat 12 went wrong when the Birmingham man was disqualified, which all but ended Birmingham's hopes of taking something from the meeting.