Poole end Panthers record
Ward inspires Poole again
Last Updated: June 1, 2012 9:54am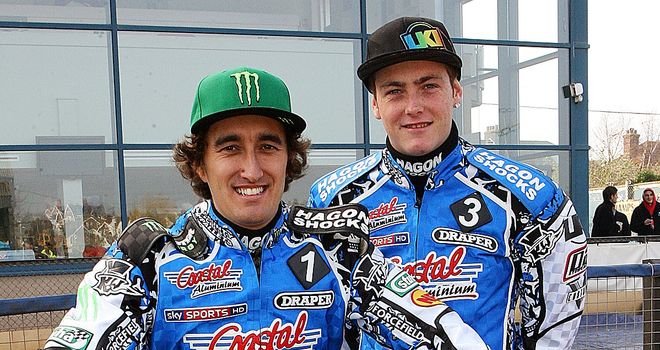 Darcy Ward and Chris Holder: Brilliant form again for Poole (Pic credit Mike Hinves)
Poole Pirates ended Peterborough Panthers impressive unbeaten home record to return back to the top of the Elite League.
The Panthers had not lost a league meeting at the East of England Showground since September 2010.
RESULTS AND SCORERS:
PETERBOROUGH 39
Jesper B Monberg 8+1, Michael Jepsen Jensen 7+1, Kenneth Bjerre 7, Lasse Bjerre 6+2, Linus Sundstrom 4+1, Richard Lawson 4, Olly Allen 3+1
POOLE 51
Darcy Ward 18, Chris Holder 13+1, Ty Proctor 10+3, Ricky Kling 5, Kyle Howarth 3+1, Ludvig Lindgren 2, Adrian Miedzinski r/r
-----------------
BIRMINGHAM 50
Danny King 10+1, Sebastian Ulamek 10+1, Josh Auty 10+1, Bjarne Pedersen 7, Ben Barker 7, Martin Smolinski 4, Tomasz Pizcz 2+1
BELLE VUE 43
Chris Harris 15+1, Patrick Hougaard 10+1, Adam Roynon 7, Ricky Ashworth 6, Ales Dryml 5+2, Linus Eklof 0, Artur Mroczka r/r
But they surrendered that record on Thursday as Poole maintained their unbeaten start to the new season with a convincing win.
Poole led from the first race and won 11 of the 15 heats to took maximum points, and they were again led home brilliantly by Darcy Ward - who claimed his third straight maximum.
Indeed Ward has not been beaten by an opponent for 17 races - a remarkable record.
Chris Holder was again not far behind with paid 14, whilst guest Ty Proctor produced an excellent paid 13 return.
Peterborough's top scorer was Jesper B Monberg with just 8+1 which summed up their struggles.
Brummies win
Bottom of the table Belle Vue Aces lost their ninth successive meeting, although they almost claimed a point as they lost 50-43 at Birmingham.
The Brummies started the match well and were in control for much of the meeting - although a tactical win for guest Chris Harris in Heat 11 helped the visitors get back to within five points.
But Birmingham battled back and a 5-1 in Heat 14 was enough to push them to maximum points.
Birmingham produced an excellent all-round display with Danny King, Seb Ulamek and Josh Auty all claiming double figures.
Brummies boss Phil Morris said: "I know we got all the points but we shouldn't really have made such hard work of it, although it's hard to see why because we had a fair few race winners.
"There are a few things we've got to try and work on, it was getting tight with three races to go and there was a bit of a panic that we weren't going to get all three points. The last race was a bit heart-in-mouth when Danny's bike went, so there was a bit of bad luck but we should have been further in front.
"In reality we're happy to get four points at Coventry and three tonight, we've got the points on the board, and we need to keep winning our home matches and make them three-pointers."