Birmingham edge out Wolverhampton in Elite League
Last Updated: 24/05/13 7:49am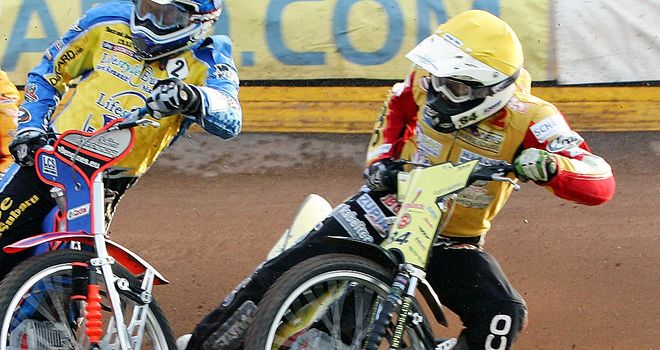 Martin Smolinski: Fine form for Birmingham
Wolverhampton boss Peter Adams was in philosophical mood after the Elite League leaders were edged out in a terrific local derby at Birmingham on Wednesday.
The Brummies won the meeting 46-44 with another bumper haul from reserve Martin Smolinski (14+3), but a last-heat 5-1 from Tai Woffinden and maximum man Freddie Lindgren ensured Wolves left with a point.
Adams said: "Obviously you can't win them all. Given the strength of Birmingham and the form they've been in, that's what we came looking for and that's what we got.
Score and scorers:
BIRMINGHAM 46
Martin Smolinski 14+3, Jason Doyle 9, Danny King 9, Ben Barker 6+1, Nico Covatti 3+2, Chris Harris 3, Josh Auty 2+2
WOLVERHAMPTON 44
Freddie Lindgren 16+2, Tai Woffinden 13+1, Ty Proctor 6, Ricky Wells 6, Ludvig Lindgren 2, Jacob Thorssell 1, Adam Skornicki R/R
"It's frustrating obviously after coming so close to winning, but if we can now take three-points against them at home on Monday it will be a job well done."
Having already entered the meeting without Adam Skornicki, Wolves were reduced to five riders when Ty Proctor was forced to withdraw after aggravating a shoulder injury in Heat 8.
Skipper Fredrik Lindgren led the charge for Wolverhampton with a six-ride paid-maximum whilst Tai Woffinden continued his blistering form with 13+1.
Once again Birmingham were led home by the Elite League's leading performer in the shape of their German star Smolinski who claimed paid 17 and was the only Brummie to hit double figures.
And it was another miserable night for British GP wild card Chris Harris who claimed just 3 points.