Stead confusion
GB star stays with Swindon
By Graeme Bailey - Tweet me: @skygraemebailey. Last Updated: 22/08/12 2:47pm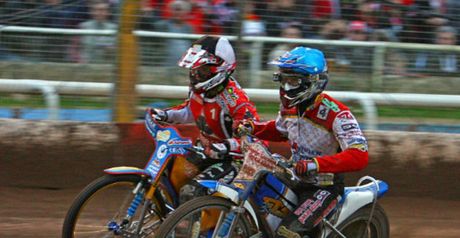 Simon Stead: Still with Swindon
Swindon Robins ace Simon Stead is to continue riding for the club, despite seemingly being axed last week.
Great Britain international Stead was sacked by Swindon less than 24-hours after his own testimonial meeting at the Abbey Stadium.
The day after his big day, he Tweeted: "I guess if I've had two clubs call me in 30mins offering me a team place it means I've had the sack?! Can @AJROSCO (team manager Alun Rossiter) or (promoter) @garypatchett confirm?"
And it was revealed that Pole Robert Miskowiak was due to take his place in the side.
However, the timing of the change prompted an angry response from Swindon fans, and the Robins management have since changed their minds and retained Stead.
Patchett said: "Simon is aware we are concerned about his form. He says he is determined to turn things around which is good to hear and we will continue to work with him to enable him to achieve that.
"For our part, Alun and I are solely focused on producing the team best possible to give us every chance of play off success.
"Our team was built with strength in depth and potential heat winners in every position. We will not shirk the responsibility to make the difficult decisions if and when necessary and we will not enter the play offs with any weak links if a better option is available."