Amendment sends Robins top
Swindon find themselves on top
Last Updated: 09/08/12 11:13am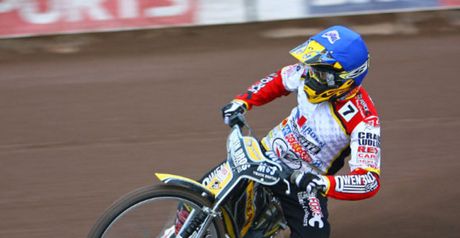 Corey Gathercole: Centre of controversy
Swindon Robins have gone top of the Sky Sports Elite League after the The Speedway Control Bureau amended their result with King's Lynn.
During their home draw with King's Lynn on July 19, Stars were judged to have used Cory Gathercole illegally.
The Amended result moves Swindon to the top of the Elite League table level with Poole, but a superior points difference sees them move the Pirates down to second place.
The SCB Statement read: "The Speedway Control Bureau have issued the following statement regarding the Swindon v King's Lynn Elite League match that was staged on Thursday July 19.
Elite League: SWINDON v KINGS LYNN: Thursday 19th July 2012
At this Meeting Kings Lynn contravened The Speedway Regulations by using Cory Gathercole as a Guest to replace the Doubling-Up position occupied by David Howe & Ulrich Ostergaard.
Kings Lynn were only entitled to use a PL Rider whose Match Average was 6.00 or less.
Cory Gathercole, with a PL MA was 6.50 was therefore not eligible and on the night he scored 2 (+1) points and the Meeting ended as a 45 - 45 draw with Swindon gaining 1 Match Point and Kings Lynn 2 Match points.
Accordingly as permitted by SR 15.10.1 the Meeting Result is now revised by deducting Gathercole's points and is therefore:
SWINDON 45 KINGS LYNN 43
The effect is that Swindon have 2 Match Points and Kings Lynn 1 Match Point."
Anger
King's Lynn were quick make their own statement and they were far from happy.
"King's Lynn Speedway are saddened and confused to learn that the SCB have decided to alter the result of their away meeting at Swindon on July 19 2012.
"It is clear that even without the new 1-7 being in effect because of the previous nights rain off, we were still entitled to use a guest for the previously declared Joe Screen/David Howe partnership as neither rider was available for this fixture.
"What is even more surprising is that this result has been altered nearly 3 weeks since the meeting took place, at which point neither the Swindon promotion or official SCB referee had any issues with King's Lynn using Cory Gathercole as a guest.
"We believe that decisions like this are clearly not in the best interest of the sport, and we can only worry about the future of speedway in Great Britain as a result."