Robins close on Pirates
Swindon ease to victory
Last Updated: 29/06/12 2:40pm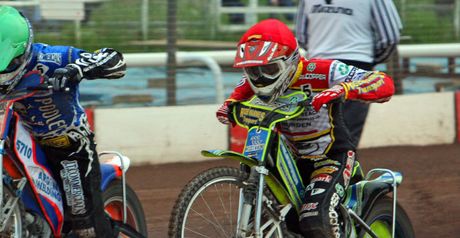 Troy Batchelor: Top scored for Swindon (Pic credit Les Aubrey)
Second placed Swindon Robins continued their good form with a comprehensive 60-33 win over Wolverhampton Wolves.
The Robins led from first to last at the Abbey Stadium as they dominated proceedings, limiting Wolves to just three race wins all evening.
RESULTS AND SCORERS:
SWINDON 60
Troy Batchelor 14, Peter Kildemand 11+3, Hans Andersen 11, Jason Doyle 10+1, Simon Stead 7+2, Nick Morris 5+2, Ashley Birks 2+1
WOLVERHAMPTON 33
Freddie Lindgren 13, Ty Proctor 8+1, Kenny Ingalls 5+1, Thomas Jorgensen 4, Rory Schlein 3+1, Lukasz Sowka 0, Robert Miskowiak r/r
--------------------
PETERBOROUGH 49
Kenneth Bjerre 14, Norbert Kosciuch 12+2, Michael Jepsen Jensen 9+2, Linus Sundstrom 9+1, Richard Lawson 5+1, Olly Allen 0, Krzysztof Buczkowski r/r
COVENTRY 41
Adam Roynon 11, Chris Harris 9, Scott Nicholls 8+1, Henning Bager 7+2, Edward Kennett 4+1, Kenni Larsen 2+1, Aaron Summers r/r
Troy Batchelor (14), Peter Kildemand (11+3), Hans Andersen (11) and Jason Doyle (10+1) all hit double figures for the home side.
Freddie Lindgren (13) and Ty Proctor (8+1) were the only opposition riders to provide any sort of resistance.
The win takes Swindon to within six points of table topping Poole.
Peterborough Panthers clinched maximum points in the final heat as they beat Coventry 49-41 at the East of England Showground.
The meeting was marred by two crashes which saw a rider from each side withdrawn as Olly Allen and Kenni Larsen were sidelined.
Kenneth Bjerre led Peterborough home with 14, but it was Michael Jepsen Jensen's pass of Chris Harris in Heat 15 which gave the home side maximum league points.
Bjerre said: "It's a good result for us and of course I'm happy with how it went for me. It's just nice to have a meeting without any rain, and the track was great.
"I felt fast and I know in Heat 1 I was close to the track record so I had plenty of speed in the bike. We're all pleased and looking forward to the meetings after the World Cup."
Away reserve Adam Roynon was the only Coventry rider to hit double figures.