Pirates extend lead
Wolves go down at Wimborne Road
Last Updated: 26/07/12 5:05pm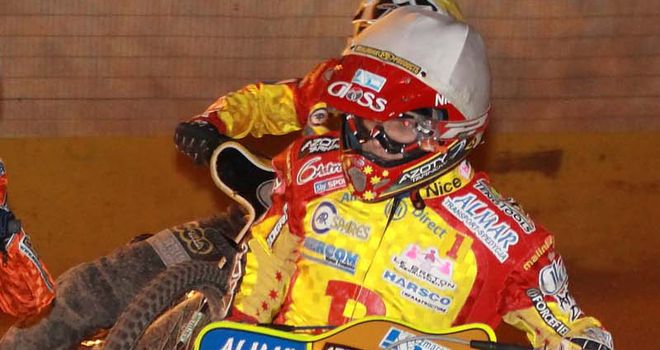 Krzysztof Kasprzak: Top-scored for Poole
Poole Pirates extended their lead at the top of the Sky Sports Elite League to seven points after a comfortable victory over Wolverhampton Wolves.
RESULT AND SCORERS:
POOLE 52
Krzysztof Kasprzak 14, Dennis Andersson 10+1, Darcy Ward 8+1, Ricky Kling 7, Ludvig Lindgren 5, Kyle Howarth 4+2, Chris Holder 4
WOLVES 38
Robert Miskowiak 12, Tai Woffinden 8, Ty Proctor 7+2, Matej Kus 5+1, Freddie Lindgren 3+1, Ricky Wells 3, Jacob Thorssell 0
The reigning champions only conceded two race deficits in the whole meeting as they romped to victory.
The shine was taken off the victory by an early injury to Chris Holder who had a bad fall in his third ride. But despite him only scoring four points, Poole had no issues with claiming maximum points.
New signing Krzysztof Kasprzak continued his good form as he top scored with 14 whilst Dennis Andersson came home with paid 11.
Robert Miskowiak once again performed well for Wolves, top scoring on 12 - whilst Ty Proctor earned his 3rd consecutive heat 15 appearance.
Tai Woffinden also managed only one race win - and there are fresh concerns over his fitness after he popped his shoulder out in a heat 13 spill, leaving the stadium in some discomfort despite taking his place in the rerun.
After the meeting, captain Freddie Lindgren said: "I am really proud of the team, they put in a battling performance out there. I had a real nightmare meeting and I am not sure what went wrong. I have got to go back to the drawing board now.
"We have got a few days off because of the British Final next Monday, so I have some time to try and tweak my engines a bit and hopefully I will have some more speed when I get back."