Hammers bring back Jonas
Davidsson brings Lakeside back to full strength
Last Updated: 02/07/12 11:07am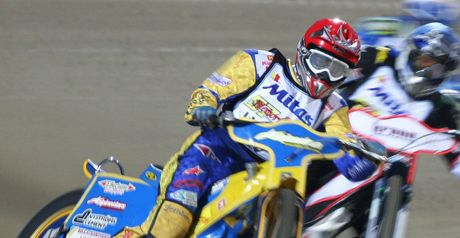 Jonas Davidsson: Back with Lakeside
Lakeside Hammers have confirmed that Swedish star Jonas Davidsson has re-signed for the club.
Lakside have been in need of a new heat-leader following the tragic death of Lee Richardson, and now they have confirmed Davidsson's return.
Davidsson will make his seasonal debut for the Essex based club at Swindon on Thursday 5th July.
Davidsson's arrival means that the team will return to a full team of seven riders for the first time since the tragic death of Richardson relieving the burden of extra riders on the remaining six riders, which has seen the club slip from top to third in the Sky Sports Elite League table.
The Hammers Co Promoter Jon Cook told the club's official website: "It's great to have JD (Jonas Davidsson) back and his enthusiasm to come back to the club was evident from the moment we spoke.
"Unlike last season's cameo appearance this time we have half a season left to race and, therefore, he will be bringing over his own equipment to make sure he does the job he, and we, expect.
"On his day few can match JD around the Raceway and it's with that firmly in mind that we have made this move.
"The lads have done admirably coping with Lee's loss and I can't speak highly enough of them all, however, the cracks have been showing for the last few matches and we felt we dare not wait any longer to make a move or else our League hopes could be damaged. JD will add to the spirit and will be good for Kim in particular."