Eagles still looking
Eastbourne can't find replacement
Last Updated: 18/05/12 1:49pm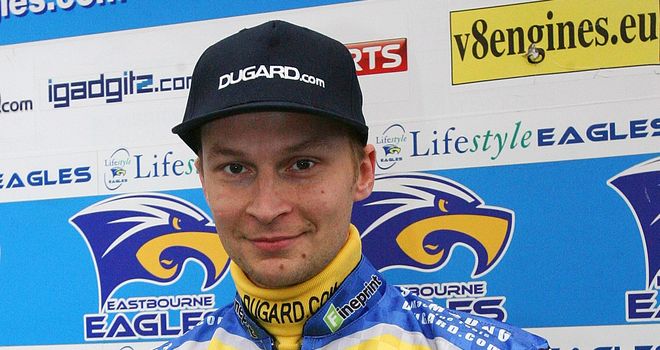 Joonas Kylmakorpi: Sidelined through injury (pic credit Mike Hinves)
Eastbourne Eagles admit that they are struggling to find a replacement for injured number one Joonas Kylmakorpi.
The Finn was injured early on this season but his delay from a broken collarbone has been delayed.
Eastbourne have been looking and team manager Trevor Geer has been able to approach some of the sport's top names to come in as a temporary replacement.
Geer said: "Unfortunately, so far we have been turned down. These riders have prior commitments and are unable to change their existing commitments to come to Eastbourne either on a short-term or longer basis."
Kylmakorpi, who was injured in the club's second meeting of the season at King's Lynn, was hoping to make a comeback earlier this month. However, he has now had another MRI scan with the specialist saying he will not be fit to ride for another two or three weeks.
Geer added: "I have not given up on trying to bring in someone but it is not easy. We are doing our best but so far we have not had any success."