Eagles edge Bees
Eastbourne grab win over Coventry
Last Updated: 06/05/12 12:33am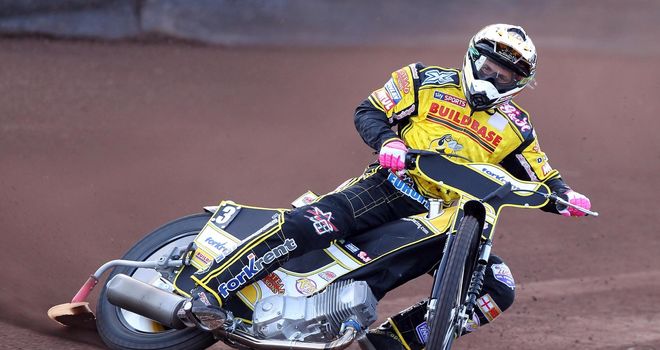 Scott Nicholls: Top scored for Coventry (Pic credit Jeff Davies)
Eastbourne Eagles claimed a narrow 48-45 Coventry Bees at Arlington in a topsy-turvy encounter.
Going into the last race the home side needed a 5-1 for maximum points whilst the Bees required a 5-1 to snatch victory on the night - and in the event the race was shared as Simon Gustafsson won for the home side but Scott Nicholls and Edward Kennett headed Lewis Bridger.
RESULT AND SCORERS:
EASTBOURNE 48
Simon Gustafsson 12+1, Lukas Dryml 8+2, Lewis Bridger 8+1, Denis Gizatullin 7+2, Timo Lahti 7+1, Cameron Woodward 6+2, Joonas Kylmakorpi r/r
COVENTRY 45
Scott Nicholls 12+1, Edward Kennett 11+1, Chris Harris 7+1, Leigh Lanham 6+1, Kenni Larsen 6, Rohan Tungate 2, Alex Davies 1+1
Nicholls was Coventry's outstanding rider with three wins in what was always going to be a tough meeting especially with Henning Bager joining the list of unavailable reserves due to hip and thigh injuries picked up in his crash at Brandon on Friday.
But Bees still made an explosive start, picking up two 5-1s in the first three races to go eight points up as they also benefited from Timo Lahti's mechanical failure in Heat 2.
However, Coventry's gating then deserted them mid-meeting and they paid a heavy price in conceding four 5-1s in a six-race spell, Kennett missing out in a battle with Cameron Woodward in Heat 5 and Chris Harris also finding himself re-passed by Bridger two races later.
After ten races Bees' 13-5 lead had been overturned into a 25-35 deficit, but the comeback began with a terrific 8-1 in Heat 11 when Kennett, taking a tactical ride, sent Bridger wide on turn two and Leigh Lanham came through to share in his second maximum heat win of the night.
Three points down, Bees needed Kenni Larsen to win Heat 14 and he did just that, and although a 5-1 in the last race would have been the perfect result it was always unlikely with the Eagles having gate choice, and the 3-3 from Nicholls and Kennett was a satisfactory outcome to the meeting.