Eagles edge past Panthers
Late Peterborough charge gets point for the visitors
Last Updated: 22/04/12 9:08pm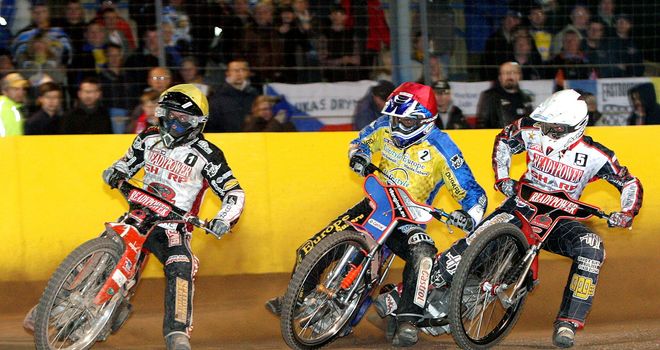 Kenneth Bjerre: On his way to big points (Pic credit Mike Hinves)
Eastbourne Eagles ended Peterborough's unbeaten start to the season with a 50-45 win at Arlington, but they failed to claim maximum points.
But home side made hard work of a contest they dominated early, indeed they were 14-points ahead after ten heats.
RESULT AND SCORERS
EASTBOURNE 50
Lukas Dryml 10+2, Lewis Bridger 10+1, Edward Kennett 8+1, Cameron Woodward 6+2, Denis Gizatullin 6+1, Timo Lahti 5+1, Simon Gustafsson 5
PETERBOROUGH 45
Michael Jepsen Jensen 16+2, Kenneth Bjerre 15, Linus Sundstrom 6+1, Olly Allen 6, Jesper B Monberg 2+1, Rohan Tungate 0, Rene Bach r/r
Heat 11 saw Peterborough get back into the contest with Danish star Kenneth Bjerre claiming a tactical win on their way to an 8-1, remarkably a 5-1 followed which meant the gap was down to just three points.
Eastbourne extended the gap back to seven points, which they needed for maximum league points, but they then conceded a 4-2 again with Bjerre winning the heat.
Eagles Co-promoter and Team Manager, Trevor Geer admitted being pleased at his side taking the win but expressed some disappointment at not wrapping up all three match points.
"After being 14-points up at one stage it proved to be a bit of a comedown that we didn't take maximum points from the match," he told the club's website.
"We looked to be cruising but the Panthers made good use of their tactical rides, particularly the 8-1 in heat 11 and for a time we started to look vulnerable" he continued.
"We had a couple of riders below par, Simon (Gustafsson), though alright injury wise came back from Sweden on Thursday with a fever and has been in bed ever since, getting up only for tonight's match.
"The important thing is that the lads dug in and held on for the win, three points would have been the icing on the cake but we won the match, that's the main thing."
Eastbourne had Lukas Dryml and Lewis Bridger both hitting 10 points, but Peterborough were led home brilliantly by Danish duo Kenneth Bjerre and brilliant reserve Michael Jepsen Jensen - who scored a remarkable paid 18.