Elite League: Coventry beat local rivals Leicester at Beaumont
Last Updated: 21/04/14 4:47pm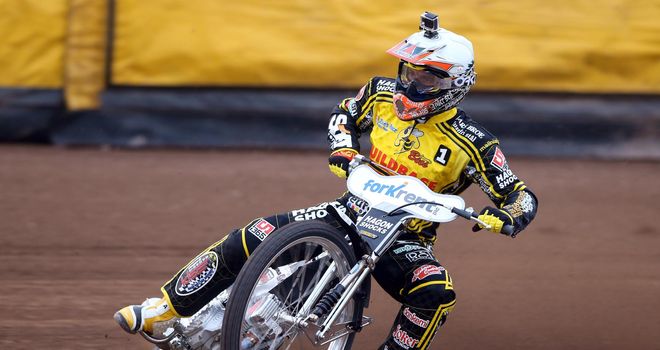 Coventry overturned a six-point lead to hand them victory at Leicester
Coventry sealed their second Elite League victory on the road this season thanks to a 50-40 success against local rivals Leicester on Saturday.
The result helped the Bees add a valuable four points to their total, while Leicester remain just one place ahead of bottom side Birmingham.
Coventry overturned a six-point lead to hand them the win, despite home No 1 Jason Doyle scoring a maximum 15 points.
Hans Andersen and Chris Harris both reached double figures for the visitors and received solid support from their team-mates to help them on their way.
"We showed real character to come back from six points down at one stage, and to come back and claim all four points away from home is really good," said Denmark's Andersen.
"Leicester are a good team and this is not an easy place to come to."
Meanwhile, Lions boss Norrie Allan had no complaints about the result and complemented Coventry on upping their game to see them off.
"We began well enough and I had every confidence in the team to compete on equal terms in the latter stages, but to their credit Coventry stepped up to another level and fully deserved their win.
"We have a week now to regroup and prepare ourselves for the visit of Eastbourne on Saturday."