Bees denied away win
King's Lynn comeback seals victory
Last Updated: 05/07/12 7:31pm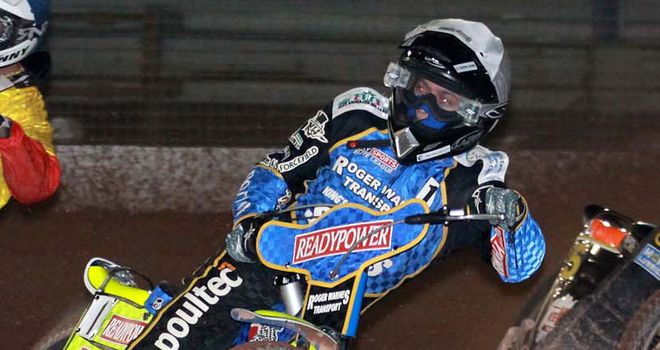 Kenneth Bjerre: King's Lynn top-scorer
Coventry Bees were denied their first away win of the season as King's Lynn Stars mounted a late comeback to seal a 46-44 victory.
Bees controlled the meeting for long spells and went into the final three races with a six-point lead, only for the next two heats to turn dramatically against them.
RESULT AND SCORERS
KING'S LYNN 46
Kenneth Bjerre 14, Mateusz Szczepaniak 10+3, Daniel Nermark 9+1, Mads Korneliussen 5+1, Kevin Wolbert 5+1, Maciej Janowski 3, David Howe 0
COVENTRY 44
Adam Roynon 12, Kenni Larsen 10, Chris Harris 9+1, Edward Kennett 6+2, Henning Bager 5+2, Aaron Summers 2+1, Scott Nicholls r/r
King's Lynn lost David Howe early in the meeting but his reserve partner Mateusz Szczepaniak battled superbly as he scored an excellent paid 13.
Kenneth Bjerre was the main man for the home side as he led them home with 14.
Coventry's scoring was led by reserve Adam Roynon on 12 whilst Kenni Larsen also claimed double figures.
Stars team manager Rob Lyon admits that Coventry gave his side a touch challenge, he said: "Coventry came and had a real good go at us and made it very difficult for us.
"I thought it probably was all over but you never say never in speedway, you have to believe that while there is still a chance, you have to believe you can do it."