Elite League Speedway: Wolves claim last heat win
Last Updated: 23/07/13 3:10pm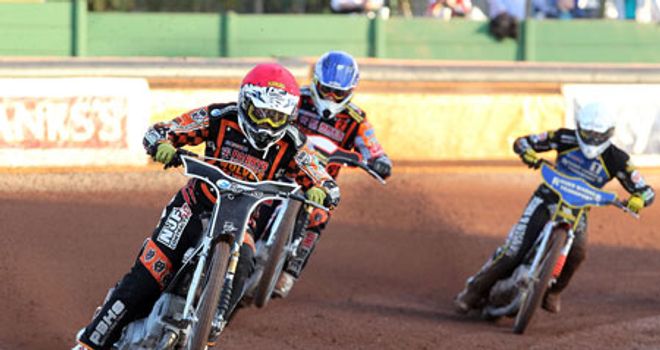 Tai Woffinden: Top form from Wolves top man (Pic credit John Hipkiss)
Reigning Elite League champions Swindon were denied top spot by current leaders Wolves as they snatched a last-heat 46-44 win at Monmore Green.
Wolves were two-points down going into the final heat, but Tai Woffinden and club legend Peter Karlsson - who was guesting - claimed a brilliant 5-1 to seal victory.
Results and scorers:
WOLVES 46
Jacob Thorssell 11+2, Tai Woffinden 10+1, Peter Karlsson 9+1, Adam Skornicki 6+2, Ludvig Lindgren 5, Ricky Wells 5, Ty Proctor R/R
SWINDON 44
Peter Kildemand 10, Hans Andersen 10, Nick Morris 9, Troy Batchelor 6+1, Edward Kennett 5+1, Ashley Birks 4, Kyle Howarth 0
---------------------
PETERBOROUGH 45
Patrick Hougaard 13+3, Kenneth Bjerre 10, Krzysztof Buczkowski 7+2, Dakota North 6, Norbert Kosciuch 5+1, Joonas Kylmakorpi 4, Ryan Fisher 0
BIRMINGHAM 45
Chris Harris 14, Martin Smolinski 9+1, Danny King 9, Jason Doyle 5+1, Ben Barker 5+1, Josh Auty 2, Nico Covatti 1
---------------------
KING'S LYNN 50
Craig Cook 13+1, Matej Zagar 9, Ales Dryml 8, Kevin Wolbert 7+2, Magnus Zetterstrom 7+1, Ulrich Ostergaard 6, Kauko Nieminen R/R
BELLE VUE 40
Mads Korneliussen 11+1, Niels Kristian Iversen 8+1, Richie Worrall 7+1, Andzejs Lebedevs 5+1, Lasse Bjerre 4+1, Rory Schlein 3, Lewis Kerr 2+1
"Me and PK knew what we needed to do and did the job in hand which was great," said Woffinden.
"It was a tough night for me personally, but it was a great effort from the team and a really important result."
Whilst Woffinden and Karlsson were the last heat heroes, Wolves' Man of the Match was reserve Jacob Thorssell who claimed an excellent paid 13.
Danes Peter Kildemand and Hans Andersen both hit double figures for the Robins, as thye just missed out on top spot.
Team boss Alun Rossiter said: "I think if I'm honest I am disappointed as we threw away a few points which would have put us in a comfortable position.
"It was still a great effort from all the team and you can't fault any of them. We came back well and showed plenty of character, but it just wasn't to be in the end."
Birmingham Brummies climbed into second ahead of Swindon after claiming a 45-45 draw at bottom of the table Peterborough.
The Panthers led by eight at one stage, but could not hold offf a strong Brummies display.
Panthers co-promoter Trevor Swales said: "There was some great racing, but once again it's points dropped for us and so that has to be disappointing."
Patrick Hougaard continued his return to form with an excellent paid 16, but Kenneth Bjerre was the only home rider to hit double figures as the home side's struggles continued.
Belle Vue Aces climbed into eighth after a comfortable 50-40 win over an out of sorts King's Lynn Stars.
The Manchester giants won the last five heats to cement the win which lifted them above Eastbourne.
Aces team manager Jason Attwood said: "It feels like we've shaken off that run of defeats at long last. I mean, they say you're only as good as your last result but I think we really were a great side.
"Everybody chipped in with the points, everybody did their job and we got the win and to win by 10 points and take all 3 Elite League points is just super.
"We may not have had the best of times lately but I've got confidence in the guys and that's all they need really. I'm very happy with the riders I've got and they've showed tonight exactly what they are capable of producing."
Great Britain international Craig Cook continued his good run of form with paid 14, but their worst scorer was Ulrich Ostergaard with 6 - which underlined their team performance.
Only Mads Korneliussen (11+1) managed double figures for the visitors.