King's Lynn, Wolves and Birmingham all claimed away wins
Last Updated: 29/03/13 11:18pm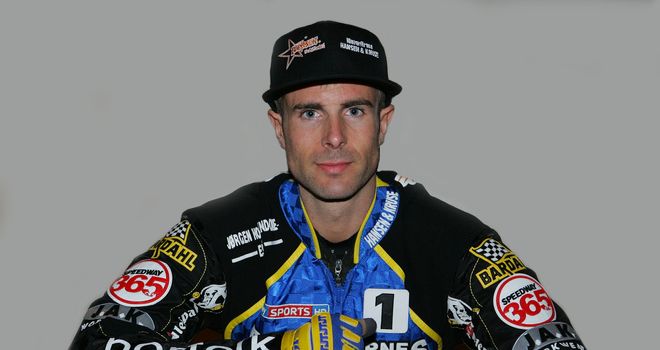 Niels Kristian Iversen: Lead King's Lynn to Peterborough win (Pic credit Norfolk Arena.co.uk)
The Elite League roared back for 2013 on Good Friday on the busiest day on the domestic speedway calendar.
With Swindon and Poole also contesting the Elite Shield, there were no fewer than six league matches, with two sets of double headers.
Scores and scorers:
PETERBOROUGH 40
Kenni Larsen 11+1, Ryan Fisher 8, Dakota North 7+1, Linus Sundstrom 5+2, Kenneth Bjerre 5, Patrick Hougaard 3, Norbert Kosciuch 1
KING'S LYNN 50
Niels-Kristian Iversen 13+1, Mads Korneliussen 11, Rory Schlein 8, Sebastian Alden 7+1, Nicolai Klindt 6+2, Simon Stead 5+1, Kozza Smith 0
----------------------
KING'S LYNN 41
Simon Stead 10+1, Mads Korneliussen 7, Nicolai Klindt 6+2, Sebastian Alden 6+2, Rory Schlein 5, Kozza Smith 4+1, Niels-Kristian Iversen 3
PETERBOROUGH 33:
Dakota North 11+1, Kennth Bjerre 9, Linus Sundstrom 6, Patrick Hougaard 3+1, Kenni Larsen 2, Ryan Fisher 1+1, Norbert Kosciouch 1
----------------------
LAKESIDE 49
Davey Watt 12, Peter Karlsson 9+1, Robert Mear 7+1, Piotr Swiderski 6+1, Kim Nilsson 5+1, Lewis Bridger 5+1, Richard Lawson 5
EASTBOURNE 40
Bjarne Pedersen 11, Adam Shields 8, Simon Gustafsson 8, Cameron Woodward 6+2, Lukas Dryml 5+1, Denis Gizatullin 2+1, Timo Lahti 0n
----------------------
EASTBOURNE 52
Lukas Dryml 14+2, Bjarne Pedersen 14, Adam Shields 9+1, Cameron Woodward 9, Timo Lahti 4+2, Simon Gustafsson 2, Denis Gizatullin 0
LAKESIDE 41
Peter Karlsson 12, Lewis Bridger 9+1, Richard Lawson 6+1, Davey Watt 5, Robert Mear 4+1, Kim Nilsson 3, Piotr Swiderski 1
----------------------
BELLE VUE 43
Magnus Zetterstrom 13, Richie Worrall 6+1, Matej Zagar 6, Artur Mrozczka 5+1, Ales Dryml 5+1, Craig Cook 4+3, Kevin Wolbert 4
WOLVES 47
Tai Woffinden 13+1, Freddie Lindgren 10+1, Ludvig Lindgren 8+1, Ricky Wells 7, Ty Proctor 6+1, Adam Skornicki 3, Jacob Thorssell 0
----------------------
COVENTRY 41
Scott Nicholls 12+1, Krzysztof Kasprzak 7+1, Grzegorz Zengota 7, Michal Szczepaniak 5, Mateusz Szczepaniak 4+1, Aaron Summers 4, Adam Roynon 2
BIRMINGHAM 49
Martin Smolinski 19+1, Danny King 13+1, Nico Covatti 6+1, Chris Harris 5+1 Josh Auty 4, Ben Barker 2+1, Jason Doyle R/R
And few could have predicted some eye raising score-lines, with Peterborough and Belle Vue suffering early home defeats.
And The Panthers' loss will sting all the more as it was to local rivals King's Lynn - led by Peterborough asset Niels Kristian Iversen.
In a commanding display at the East of England Showground, the Stars were never behind, after opening with a 5-1 success. The scores were level after ten heats but the visitors edged out to an impressive 10-point win.
Iversen (13+1) and Mads Korneliussen both hit double figures as almost all the King's Lynn side enjoyed success, indeed things could have been much worse for the Peterborough had Kozza Smith not come home pointless.
The return leg saw King's Lynn again take maximum points with a 41-33 success - in a meeting reduced to 12 heats as the Norfolk Arena track was starting to freeze.
The Stars strength was highlighted as they were still far too good even though, Iversen managed just three points as a fall and retirement sandwiched a win in the only ride he managed to finish.
Simon Stead was the star performer on his home debut with paid 11, but there were good contributions throughout the side which only highlights their title credentials.
For Peterborough, reserve Dakota North was particularly impressive with 11+1, whilst Kenneth Bjerre and Linus Sundstrom both managed wins - but they could do little to stop King's Lynn taking maximum points, which means they sit on top of Elite League at this early stage.
Last season's basement side Belle Vue Aces began the season in disappointing fashion as they suffered a shock 47-43 home defeat to Wolverhampton.
Magnus Zetterstrom was hugely impressive on his Aces debut with 13 - but the same cannot be said for GP star Matej Zagar, whose unpredictable nature was again on show as he registered just six.
With Zagar off the pace, Woffinden dominated with paid 14 and along with Freddie Lindgren (10+1), Wolves claimed the impressive win with Ludvig Lindgren and Ricky Wells both scoring well.
Wolves skipper Freddie Lindgren, was delighted and said: "We're really happy with that result to start the season.
"It's been a long time since we won away so it's an encouraging result and one which we are delighted with - especially in the first meeting of 2013."
Bees shock
In yet another shock result - highly fancied Coventry Bees went down to a home defeat to local rivals Birmingham Brummies at Brandon.
German reserve Martin Smolinski was the undoubted star turn as he claimed a wonderful paid 20 including five heat wins to haunt his former employers.
Birmingham won nine of the heats, as they secured a thoroughly deserved win and could even afford to have number one Chris Harris scoring a poor paid six at his former stomping ground.
Brummies skipper provided the main back up for Smolinksi with paid 14. Coventry only had Scott Nicholls in double figures and they also lost Adam Roynon to a serious injury late on to add to their woes.
The other double header saw Lakeside and Eastbourne exchange wins. The Hammers opened the day with a 49-40 win at the Arena Essex Raceway.
Eastbourne put up a solid showing in Essex and led after seven heats before Lakeside increased the pressure and ran out nine-point winners which gave them maximum points
Davey Watt (12) and the ever-green Peter Karlsson top-scored for the home side - whose entire VII contributed well.
Eastbourne had Bjarne Pedersen hit double figures - but Timo Lahti's failure to score hurt them in the middle order.
Back on the South Coast in the return encounter, and Eastbourne were too good for The Hammers with a 52-41 success.
Czech reserve Lukas Dryml showed that he could be a real powerhouse at the bottom end with paid 16, and with Bjarne Pedersen (14), Cameron Woodward (9) and Adam Shields (9+) all scoring well, it was too much for the visitors.
Peter Karlsson top scored with 12, which included a tactical win, whilst Lewis Bridger will probably have hoped for more than paid 10 on his return to Arlington.