Elite League: Kelvin Tatum makes his predictions ahead of the new season
Kelvin Tatum runs through the teams and riders ahead of the 2014 Elite League Speedway season.
By Kelvin Tatum
Last Updated: 14/04/14 10:01am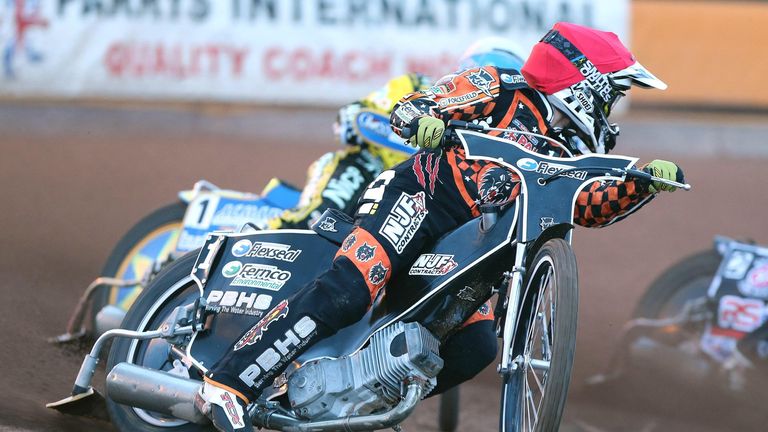 Poole Pirates have got a very good side with Darcy Ward, one of the most exciting riders in the world. They also have a young rider, Maciej Janowski, who is a former under-21 world champion and improving, as well as a young Aussie called Josh Grajczonek. They are a young team, but one with lots of talent.
Coventry Bees have re-signed Chris Harris and he is keen to have a big season. I think they have a good number one in Hans Andersen and it will be very interesting to see how the Danish rider Kenneth Hansen settles back in. But they have a good side and potentially a winner down at the bottom in Jason Garrity - a young British rider.
King's Lynn Stars have a very good top three in Niels-Kristian Iversen, Kenneth Bjerre, who is back in the Grand Prix, and Rory Schlein, the Australian. They make quite a formidable top three but they also have a young British rider in their side called Robert Lambert. He is very young but I've heard great things about him. I think they will be there or thereabouts.
Play-off hopefuls
Lakeside Hammers have a side that could sneak into the play-offs. They have signed Danish rider Mikkel Bech, an exciting young rider. If he really hits the heights with the experience of Peter Karlsson and Davey Watt, then they could surprise a few. Also Adam Ellis, a young British rider who came through the draft, could ride well.
Eastbourne Eagles have a solid side and Mikkel Michelsen looks like he could be a bit of a star. It was certainly a coup for them to sign him last year and they have Bjarne Pedersen at the front and the Australian Cameron Woodward, who has started the season well. Both Lakeside and Eastbourne have at time struggled to get points at home and that could be the key to their season.
Swindon Robins have qualities but quite possibly won't make the play-offs. They would be another mid-table team. Although, Wolverhampton Wolves have the world champion in their line-up in Tai Woffinden, I think they could be a mid-table team - though they could prove me wrong.
Belle Vue Aces have actually signed some good riders with Matej Zagar back and Scott Nichols. They have Craig Cook there as well so they could do well. They should do well at home and it would not be a complete surprise if they reached the play-off place. And I think that a lot of neutral fans would rejoice at that because they are a side that have a rich history but have been in the doldrums recently.
Strugglers
It is hard on Leicester Lions because they are new to the league but I think that they have not got the strongest team on paper. I think they may find their first season in the Elite League tough. Birmingham Brummies unfortunately have lost two riders from their side who were stars for them last year and I think this year will prove to be more difficult for them.
Ones to Watch
It is a new scenario with the draft system demanding two British riders at the bottom. Garrity is a very good rider at Coventry and it will be interesting to see how he settles. Lambert at Kings Lynn is another one I am very interested in seeing how he gets on. Also Ellis has certainly been hitting some decent scores at Lakeside.
It was vital that Wolverhampton were able to secure the services of world champion Woffinden, too. The credibility the league gets by the British world champion riding in it is huge. So I'm keen to see him. Iversen has been a stalwart in the Elite League in the last few years and I would like to think that Harris, reverting back to his parent club at Coventry, will have a good season.
Catch our opening Sky Live meet of the season from 8pm on Monday at Sky Sports 2, as defending champions Poole host Coventry.