Elite League Final 2013: Poole Pirates to win title in Birmingham
Poole, and the dynamic Darcy Ward, will wrap up the Elite League title at Perry Barr, says Kelvin Tatum.
Last Updated: 15/10/13 7:57am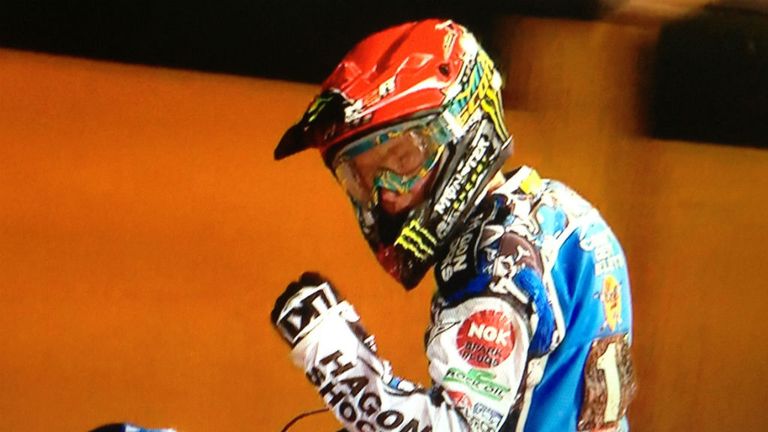 The Pirates will take a 21-point lead into Tuesday's second leg with Birmingham, mainly because their world-class riders were in world-class form at Wimborne Road.
They had a touch of fortune when Birmingham's Jason Doyle touched the tape in heat one, but Darcy Ward and Thomas H Jonasson achieved a 5-1 and that really set the tone for the night as Poole ran out 57-36 winners.
Thinking about the meet whilst driving home afterwards, it became apparent that when it comes to big nights Poole have an edge over Birmingham, with Greg Hancock performing on these sorts of stages for a considerable time.
Ward, meanwhile, looks like he is taking his job a little more seriously since breaking his shoulder blade a while back, while he is also relishing being Poole captain in the absence of the injured Chris Holder.
Darcy is a remarkable rider, possibly the most eye-catching one in world speedway.
He slips up every now and again and you sometimes question him, but he is only 21 and hasn't been in the game very long so you can excuse the odd mistake.
Ward won a Grand Prix event in Copenhagen in June and I think he could follow in the footsteps of Britain's Tai Woffinden and become a world champion, because he really is that good.
Collectively
Birmingham would have wanted to be calm and relaxed last week and take the final as just another night - but that's not what happened; they felt the pressure and when Poole hit them hard, they couldn't recover.
It was really disappointing for them as they had a great season up until then - topping the standings at the end of the regular campaign - but they will know that they didn't do themselves justice collectively at Poole.
The Brummies have been great at home recently but to come back from a 21-point deficit will be incredibly difficult because Poole can use two tactical moves and also have the quality of Hancock and Ward.
Birmingham beat the Pirates by 14 points at Perry Barr earlier in the year and that sort of figure is realistic again, but I just can't see them winning by 22.
Doyle, though, has been brilliant for the Brummies; it was a shame what happened to him early on last week but he did redeem himself later in the meeting and picked up some valuable points.
He has been very solid throughout the season and been a real trump card.
Birmingham will go in with nothing to lose and everything to gain and I think they will win the leg to salvage some pride - but I fully expect Poole to be crowned Elite League Champions.
Monday's second leg has been postponed until Tuesday due to rain.