Birmingham face Poole in speedway final and Tatum tips a classic
The Brummies meet the Pirates for the Elite League title on Monday and Kelvin Tatum predicts a cracker.
Last Updated: 07/10/13 7:58am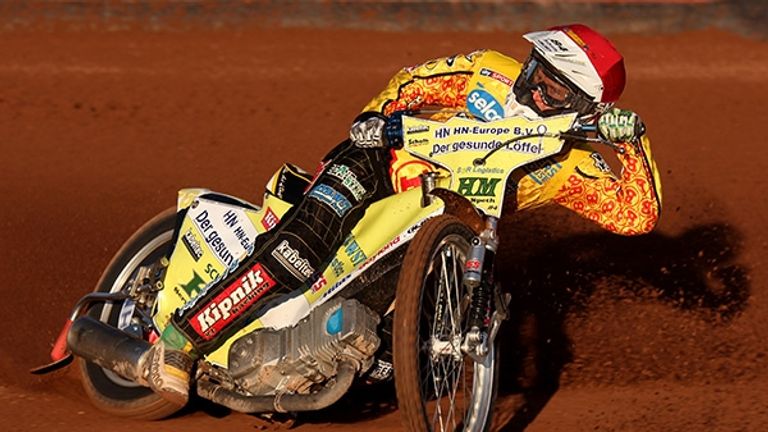 They are two very different teams in character so that sets up a very exciting final and it should be a classic.
Birmingham cruised through against their local rivals. It wasn't a total surprise because they've been so dominant for most of the season, while Wolverhampton have had injury problems and they just ran out of steam.
It was a thriller between Swindon and Poole in the other semi in what was a repeat of last year's final.
Swindon were in the driving sweat going into the second leg, but all credit to the Pirates for showing great character with some inspirational performances. It was an upset by a team who have been rebuilt twice and they're now in the final - it's a terrific effort.
Birmingham have been supremely consistent and they don't have any out and out superstars. When someone misses, another one hits and that's been the key to their season.
That's in contrast to Poole who have had a tospy-turvy rollercoaster ride, coping with injuries to their top two stars, including Chris Holder who missed most of the season. The team have never thrown the towel in and have battled their way into the final.
Both teams are strong at home and if Poole are to win on Monday they will have to match last week's efforts against Swindon. The Brummies are unbeaten at home since April and have also been very consistent on their travels.
It's going to be nip and tuck and a close affair. Birmingham are the slight favourites, but after all the trauma in qualifying, being in the final is a huge boost for Poole and they will be full of confidence on Monday.
Choking
Preparation for a final will be a little more thorough than normal. Because it's the end of the season, equipment may be running down. The last thing any team would want is engine failures or something breaking on your bike.
So the first part is the emphasis on the kit and secondly there's the human aspect. Riders need to look within themselves and find something extra at this late stage.
The team that wins over the next two Mondays will be the team who has the ability to dig deep and find extra motivation to win the championship. Experience really comes into play for any final and the teams will need the influence of the more experienced riders.
Birmingham are in uncharted territory, while Poole have been there on numerous occasions and that will stand them in good stead. Being fearful or choking could play its part - I sincerely hope not because I want to see two teams riding at their best going head to head.
It's the first time in the final for Birmingham and the manager will make it clear they want the best from their riders but they will try not to overstate that because they may become too tight and won't perform to their full potential.
My last words before riding in the final would be 'try to enjoy it'. It's very easy not to enjoy a final because it's such a big occasion with full stadiums.
There will be a lot of expectations and stress on the riders. A rider that enjoys his racing is someone that rides to his full potential and the team need to be kept as 'loose' as possible mentally.
It is obviously a crunch time but the riders should try to be upbeat, with smiles on their faces, and that will be the team that produces the right result.
It's a team of big star names against the lesser names. It's a great match-up and should be a classic. I think Birmingham will just shade it, though.
Watch the first leg of the Elite League final on Sky Sports 2 from 7.30pm on Monday.