Speedway play-offs: Tatum tips fireworks as Birmingham face Wolves
Birmingham face rivals Wolverhampton in the semi-finals and Kelvin Tatum tips a lively show.
Last Updated: 20/09/13 4:59pm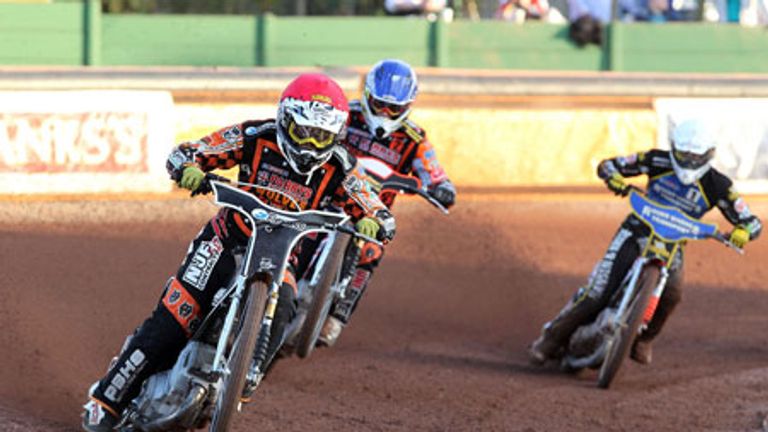 All four teams are extremely strong and it's been evident in previous seasons who the top teams have been and they've gone through.
This year is far from clear cut and we're in for a terrific night of speedway. Plus the weather forecast is excellent so there shouldn't be any issues with track conditions.
Wolves v Birmingham
Both have impressed this season. Wolves started supremely well and have possibly over-achieved. Tai Woffinden and Freddie Lindgren have led the club brilliantly and they've done well to secure their top 4 place.
Birmingham getting top spot could choose their opposition and have obviously gone for their neighbours. It will be a fantastic turn-out on Monday and having ridden for Coventry I know these Midland derbies are always special.
Finance would have helped to guide the decision by Birmingham. A local derby is good for the promoters but they will also feel they have the upper hand over Wolves. It does make sense to have a local derby. Birmingham have been very successful this season and they will feel they can come out on top.
Birmingham have been hit by injuries recently and you do see that in the closing stages of a season, but this is something that actually affects most teams throughout the whole campaign.
You just never know when injuries will strike but it is something clubs have to deal with. They are obviously never a good thing but you just hope it doesn't strike at the wrong moment and the promoters will be keeping their fingers crossed the riders will be as fit as they can be.
There has already been a lot of racing at this stage of the season so race fitness is not the issue regarding preparation. Riders will ideally try to get the time to find the reserves to get that little bit extra.
It's been a long hard season but you do find that teams coming into the play-offs have got the momentum to be successful. A rider will be looking within themselves to find that extra effort to produce something special at the end of a season.
If I was riding in the play-offs I'd be looking for a calm weekend so I could focus my attentions on Monday night.
Swindon v Poole
This is a repeat of last year's elite league play-off final and it's another fabulous meeting in prospect. The Robins are the reigning Elite league champions and they'll be desperate to retain the title. Only Poole have done that since the introduction of the play-offs.
The Pirates have had a roller-coaster of a season. They initially had an injury to Darcy Ward and they had to rebuild the side. Then injury ended the season for world champion Chris Holder and the team had to rebuild for a second time.
They signed two-time world champion Greg Hancock and they scrapped their way into the top four, while Swindon qualified comfortably.
Swindon have had their financial troubles having started the season like a house on fire. They had some indifferent results and that was clearly because riders weren't being paid.
Two sponsors have now come in to bolster the team for the play-offs and the riders are happy and I sense that all their problems are behind them so they can now focus on retaining the league title.
These off-the-track issues do affect riders - particularly if they're not being paid for their work. It's a very risky occupation and these things will weigh heavily on their minds and we've seen that with Swindon but this is good news for them and their supporters.
Semi-final predictions
I expect Birmingham just to get the better of Wolves over two meetings.
Swindon and Poole are two very attractive teams and it should be a great match. I just, JUST favour Swindon.
First legs of the Elite League semi-finals, Monday 7.30pm, Sky Sports 2 HD