Darcy Ward can inspire Poole to victory over Wolves, says Kelvin Tatum
Poole can avenge Monday's loss to Wolves when the injury-hit teams meet again, says Kelvin Tatum.
Last Updated: 09/07/13 5:41pm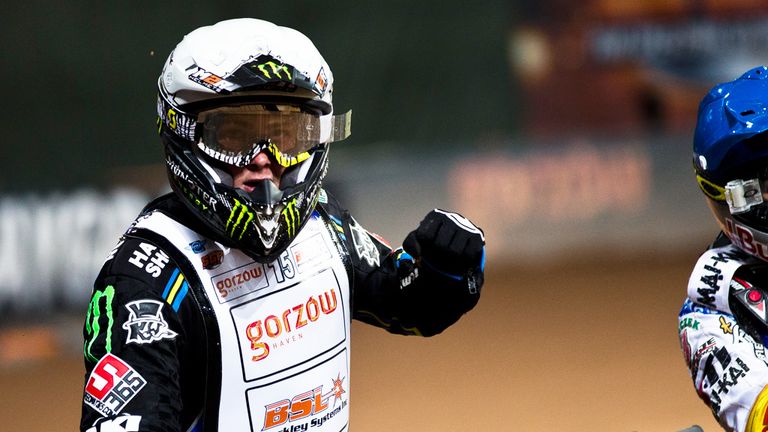 Wolves held on for a 49-42 victory and moved five points clear at the top of the Elite League but things could be different on Wednesday, when the two injury-hit sides meet again live on Sky Sports.
Poole have had a tough time with injuries this season and that was compounded by the nasty crash which left world champion Chris Holder, the Pirates captain, with a broken shoulder, hip and heel last week.
Without him they very nearly got something at Wolves, despite trailing by 17 points after 10 races, but, in the end, they were unable to pick up a league point, which was frustrating for them.
But it's been a frustrating season for them, generally; the Pirates have been without Darcy Ward for a large chunk of the season and then, just as Ward returns, losing Holder is a massive blow for them.
Without question the injury to Holder will affect the rest of the team, as well; when you've got a world champion in your side, leading from the front, the less experienced, younger riders look to him to set the standards and lead the way.
He's gone now and Ward has been appointed captain. The Australian has been saying the right things, positive stuff, and he knows he's got to lift the team. But it can't be easy for the Pirates.
Disappointed
They turned their fortunes around with a wonderful run of late, in which they picked up two away wins and a home victory, and were on the fringes of the top four, but there's a possibility the injury to Holder may halt their progress.
The Pirates lost the Grand Final last year to Swindon, so they'll be disappointed to be sitting in sixth at the moment, however, it looks like being one of those seasons for them.
It's awkward when you build teams because you are restricted by the points limit and they've obviously got two superstars in Holder and Ward.
They understandably built their team around them, but that left them a bit top heavy and when they lost Ward they had to sign some riders and re-jig their team, then they had to re-jig the team again when he returned, and now they've lost Holder.
You have to give them credit because they haven't thrown the towel in and their riders and management remain positive. However, I think it's a stretch for them to get a play-off spot, although mathematically it's possible.
When they got 11 out of 11 in three matches, that gave them the impetus that could potentially see them become a top-four team. But they are going to have to dig deep once again now and it's not clear cut whether they'll be able to overcome their injury problems.
Spotlight
They've still got riders in there where, certainly at home, they can be a match for majority of teams, but they are going to need a bit of good fortune, too.
The Wolves are also patched up. Their ace Freddie Lindgren is sidelined with an arm injury and they've got a guest in for him in Edward Kennett.
Kennett isn't in great form but with the Speedway World Cup coming up he'll be in the spotlight as he'll be desperate for a spot on the Great Britain team.
Neil Middleditch is the Poole team manager but he's also the Great Britain team manager, so Kennett will know he can ill-afford to have a poor night in front of him.
The Swedish championships also deny Wolves Ludvig Lindgren and Jacob Thorssell, so they will have quite a few guests riding and will hope Tai Woffinden can inspire them.
Kelvin's Call: I'm thoroughly looking forward to the battle between Tai Woffinden and Darcy Ward; that should be electric. However, I reckon the frustration of losing narrowly on Monday will fire up the Pirates and, with Troy Batchelor coming in as a guest, I think they will be too strong for the Wolves. I'm going for a home win.