Kelvin Tatum previews Sky' live Elite League clash between King's Lynn and Swindon
Kelvin Tatum believes King's Lynn Stars' reserve riders will be crucial in their clash with Swindon.
Last Updated: 29/06/13 7:36pm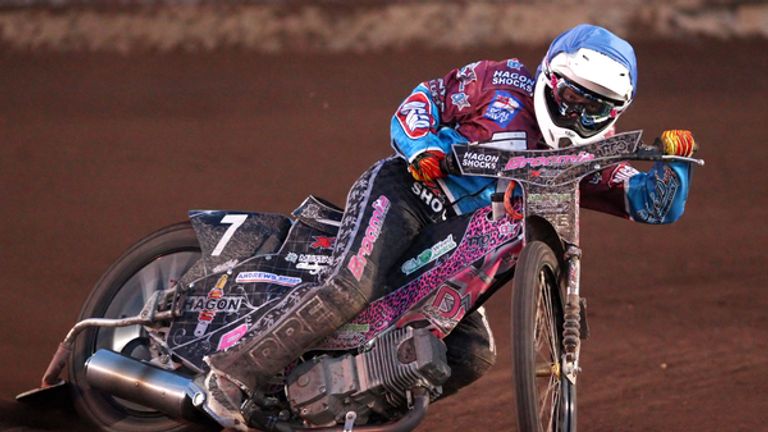 Both sides are very solid and the two line-ups are well matched. The Norfolk Arena is a fast track and should make for some great racing - it certainly won't hold any fears for Swindon, who are used to a fast track.
Swindon started like a house on fire but they then had about five defeats and slipped down the league. It is difficult to understand their poor form. They have had a few riders losing some confidence and going out of form but it is a little strange after they got off to such a great start with six meetings unbeaten. Then to have five defeats, although they've had a few wins as well, is quite concerning for them.
This is an opportunity for them to get back to winning ways. Their line-up is a strong one and they will be looking to get something out of this match up. They are a side more than capable of being in the top four and they should challenge for the rest of the season.
Quality
With riders like Hans Andersen, Peter Kildermand, Troy Batchelor (the Australian champion), Edward Kennett (who has gone there this year in decent form), they have got plenty of quality. So you would like to think, with riders with the quality like that, you would be challenging for the league not just the top four.
Andersen is going to be key for them. He is in great form and on the Grand Prix comeback trail having got through to the final of the qualifying rounds. Kildermand is another Danish rider who is very exciting and the Norfolk Arena will suit him; Batchelor also knows the place well. Those three riders are the backbone of the side and they will be crucial on Wednesday night.
King's Lynn, meanwhile, have been struggling because they have had a lot of injuries but finally they should be at full strength. They had a big win over Wolverhampton recently, although Wolves did have a couple of riders out with Tai Woffinden, a key rider missing. The star of that night was Richie Worrall with an eighteen-point maximum for them. It was probably his best night in the Elite League for them so far.
It was good to see a British rider going well. He broke his leg at the back end of last season and he is beginning to find his feet again after moving clubs from Lakeside. They have a very different track at Lakeside so it is possible that it has taken him a while to settle in. He is riding at No 2 and that is always more difficult as there is obviously more responsibility. But he'll be hopeful of pushing on and must be boosted by the fact that he has won races at this level.
In reserve
Nicklas Porsing, a new young Danish rider, has been signed and is at reserve for King's Lynn. You never quite know how a new rider is going to settle in: he could set the house on fire or he may well take a few weeks to get going. Andzejs Lebedevs is another new rider King's Lynn have signed and they will be hoping those two young riders go well because you can score a lot of points from six and seven.
Niels Kristian Iversen is having a great run; he will have to match Andersen. The Danish riders will go head to head in heat one. Simon Stead, who has had one or two injury problems this year, will also be very important for the hosts.
Prediction
This is really close. I think it is very dependent on the King's Lynn Stars' reserves, six and seven. If they go well I believe they will just win. But if they don't and Swindon really turn-up - the true Swindon - then King's Lynn may lose. I will go for a narrow home win; a last heat decider.