Kelvin Tatum previews Poole Pirates against Birmingham in the Elite League
Kelvin Tatum believes Birmingham will continue their strong form with victory over Poole Pirates.
Last Updated: 12/06/13 9:15am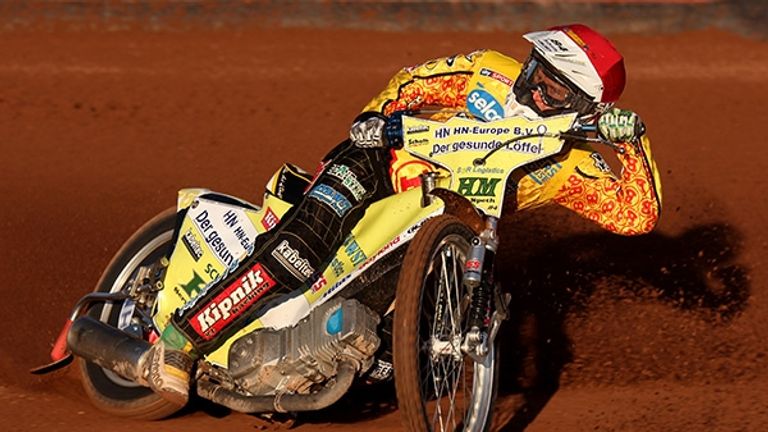 Right now Birmingham are effectively number one team in the land as they have matches in hand over current leaders Wolves, who also have Tai Woffinden out and Ty Proctor has also been out.
They are sitting pretty at this stage. They have no Grand Prix rider and they have a balanced and solid looking side. Things can change pretty quickly but if they can keep their riders fit they are the team in the driving seat.
So far they have not had injuries, which is hugely important in speedway. They have also had a man in stunning form in Martin Smolinski. He has been riding at reserve and scoring a hatful of points and is enjoying his best ever season in Elite League. He has now moved into the main body of the team but you would have to think that he will continue scoring heavily.
Hurting
Poole, in contrast, have suffered a number of crucial injuries and are struggling at second bottom of the league. They have two superstars in Chris Holder, the world champion, and Darcy Ward. Unfortunately Ward got injured in the Gothenburg Grand Prix in early May. That was a huge blow to the team. Since that time it has been a real struggle for them.
They had to make changes and then the problems were compounded by the fact that Robert Miskowiak has left the team and they introduced riders such as Thomas H Jonasson, who promptly got injured himself. So it has been a catalogue of dramas for Poole. I suspect that they feel down at Wimborne Road that their season has not really got going.
Their big defeat to Lakeside last time out is indicative of where they are. They are low on confidence and they have a patched-up team. It is tough for any team but when you consider the success they have had in recent seasons it will be hurting them. You can see it turning around but they desperately need Ward back and firing on all cylinders. Right now it is tough going for the Poole Pirates.
Patched-up
Maciej Janowski is missing because this fixture clashes with a Polish test match. Initially they were going to be two riders out with Shamek Pawliski missing as well, but he has been released and is available. They will have rider replacement for Janowski and then a guest in Gregor Zengota in for the now retired Miskowiak.
Holder will have to lead from the front for Poole. The return of Jonasson after injury - he rode on Saturday and has passed himself fit - will help them as well. He is an international rider down at reserve and he could have a huge bearing on the match if he can find top form. A reserve can take up to seven rides so I am sure they will be looking to him and the world champion Holder.
Poole will be hoping that home advantage will make a difference but the problem with having such a patched up team, and riders coming in, it is not always easy. But they will be hoping that the supporters will be getting right behind them. Holder can go out and set the tone by winning team one and getting off to a bright start will help enormously.
Prediction
But I am going to go for a Birmingham win - though it will not make me popular with the Pirates fans.
I think it'll be relatively close and that Poole will be able to throw everything at them. But I just sense that the strength in depth of Birmingham will prove too much and they will squeak a narrow away win.