Kelvin Tatum looks ahead to the British Speedway Championship
Kelvin Tatum makes his predictions for Monday's British Championship at Wolverhampton.
Last Updated: 10/05/13 5:29pm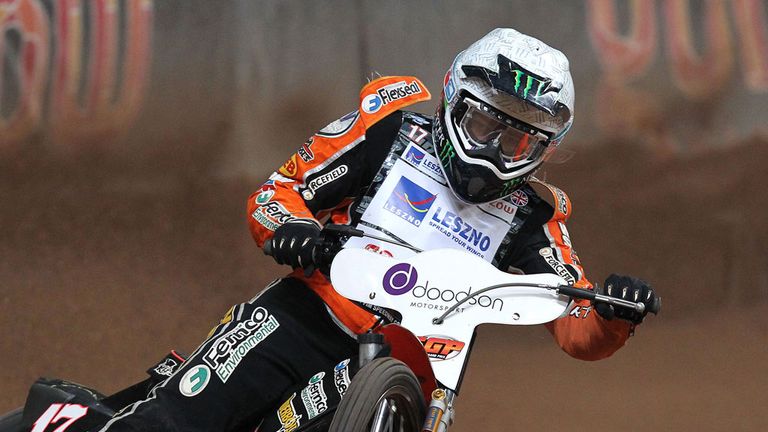 Scott Nicholls is the champion and has won this competition no less than seven times. It's a quite staggering record in this event and it's a meeting that he's clearly always targeted.
He's been a very proud winner of this event in the past and he's got just a brilliant record.
Historically, he's been involved with showdowns with Chris Harris at the British Championship but this year I don't necessarily see it as a straight shoot-out between the pair.
Favourite
Tai Woffinden has to be the red-hot favourite for the meeting. He's the present Grand Prix representative for Great Britain and is currently lying fourth in the whole world.
Woffinden's early-season form in the Elite League has also been outstanding, whereas both Nicholls and Harris have had slow starts to the campaign, so for me, Woffinden is the favourite.
This event certainly isn't just a bit of fun. You obviously like to enjoy your racing but this is a prestigious title as the national championship. I remember when I rode in it, it was one of the targets for the year, personally. I think that's the case for most of the riders.
Yes, it's an individual event and a break from team activities so obviously if you don't do well you don't let anyone besides yourself down, but it's a hotly contested meeting and generally throws up some great action.
One-off
Form can be misleading going into a one-off event like this and you can get riders who have done very little suddenly burst through and do something very special on the night. Nicholls is a rider that can do that because he will be very keen to retain his title.
I think the disparity between the riders is key, though. The reason I've waxed lyrical about Woffinden is that he's not just riding well in the league but is riding extremely well at the highest level in the Grand Prixs. I would suggest that he would be looking forward to that.
Furthermore, it's at Woffinden's home track so I would suggest that he'd be extra keen to finally win this in front of his home crowd.
It's definitely not just Woffinden who will benefit from Wolverhampton though. Nicholls likes the track and rides it round and Harris has ridden well there. Eddie Kennett is another rider who enjoys it round there and has been in some good form.
Venue change
Traditionally in the past, this event was held at Coventry, which is a bigger track. This will be slightly more technically demanding and it won't suit all the riders - someone like Simon Stead is a rider would benefit from a bigger track and maybe even Harris would be more comfortable at a Swindon or a Coventry.
In terms of the outsiders, you have a handful of Premier League riders who are making the way in the sport. Someone like Ben Barker of Birmingham might be a surprise package and also Craig Cook of Belle Vue will be looking to put their best feet forward.
I can't see past Woffinden, though. It puts pressure on his shoulders but he's not just been the best of the British riders this season by a small margin - he's been the best of the British riders this season comfortably. He's been outstanding and we haven't had a rider running fourth in the world for a decade. He's moved into a different sphere.
Kelvin's prediction: Tai Woffinden
In terms of the aftermath, it's been a disappointing start to the year for Coventry and for Nicholls individually, so it would be a huge shot in the arm for the club if he proves me wrong and comes back as the new British champion.
Sky Sports is offering you the chance to win tickets to the British Grand Prix - click here to enter.