Kelvin Tatum previews Belle Vue versus Peterborough in Elite League
Kelvin Tatum says a swanky new stadium could see Belle Vue ascend to the top of the Elite League.
Last Updated: 13/04/13 4:11pm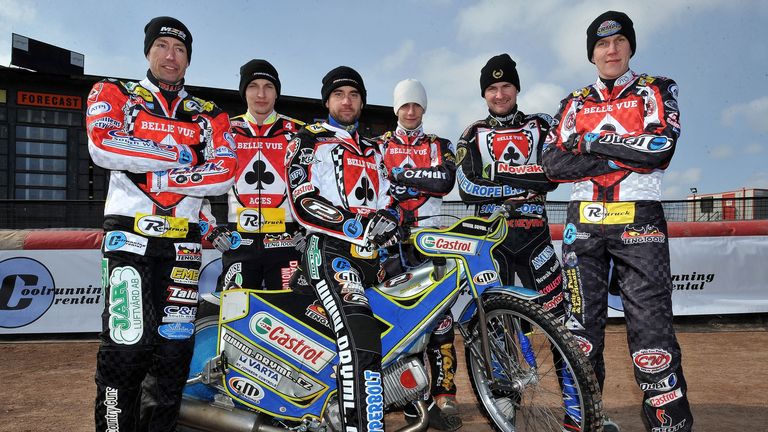 The venue would house the Belle Vue Aces, whose current stadium is also used for greyhound and stock-car racing, and for the proposal to finally get the green light is excellent news for the club and for speedway in Britain.
The Sports Village could hold international meetings and World Cups and will, therefore, bring plenty of money in the Aces' direction as they try to build a side that can compete in the upper echelons of the Elite League, something they haven't done in a while.
Plus, the swanky new facilities should make the Manchester club more attractive and help lure some of the better riders to the North West, so I would like to think this signals the start of a positive new era for Jason Attwood's team.
The Aces finished rock-bottom of the Elite League last term and begun this campaign in slow fashion, but have picked up recently and recorded draw with and victory over Coventry, and the win at home could really galvanise them.
Belle Vue should be a tough side to beat at Greyhound Stadium as it is a tight, technical track and not easy for visiting teams to adapt to.
And they need to rack up the points on their own circuit, because we saw how poor they can be away when they lost to Wolverhampton on Sky Sports a couple of weeks ago.
Focussed
Aces rider Ales Dryml wasn't very good that night and he wasn't great in the triumph over Coventry either, accruing just the one point, and as an experienced rider he must do a lot better - but a couple of Belle Vue's young guns have fired.
Kevin Wolbert comes from Germany, a country not renowned for its speedway pedigree, but he top scored against the Bees and seems like a very focussed character, while Craig Cook, a man from a motocross background, is keen to do well, too.
Cook has a lot of potential and I hope he fulfils it because I love to see British riders come through the ranks and I would be chuffed to bits if Craig made his mark in the Elite League and, perhaps, at an even higher level someday.
Belle Vue host Peterborough on Monday night in our Sky Live fixture and the visitors could probably do without a trip to rampant table toppers Swindon on Friday, the side they lost to heavily earlier this week.
The Panthers, who have just one victory to the name this season, against Eastbourne, are at home, though, which increases their chances, and if they can put in a solid display it could boost morale for the match with the Aces.
Peterborough's away woes can be put down to the fact their track is big and fast and suits their team well, while other venues require a different technique of riding and when they go to places like Belle Vue and Wolverhampton, they have to deal with tighter corners.
And for that reason, I am going to tip Belle Vue to win narrowly on Monday night.