Hans Andersen's experience will help Swindon, says Kelvin Tatum
Hans Andersen's Elite League nous will serve Swindon well this season, says Kelvin Tatum.
Last Updated: 08/04/13 7:09pm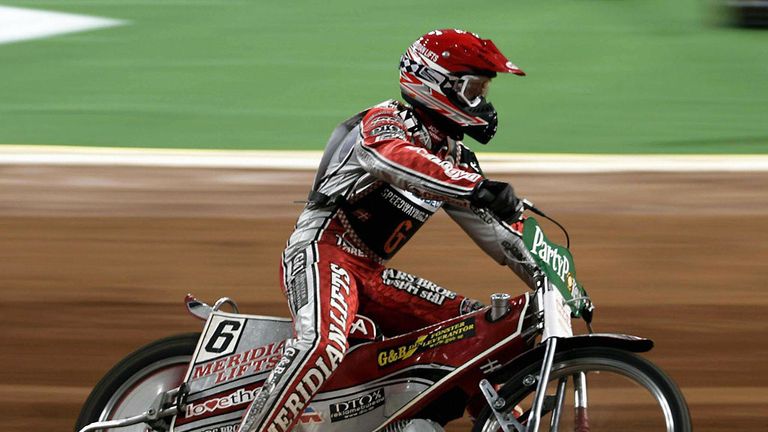 The Robins have begun the season in fine style, pipping Poole to the Elite Shield and walloping Lakeside 63-27 in their first divisional match of the campaign on Thursday night, and look odds-on favourites to retain their crown.
The Wiltshire side have some very talented riders but they also have a team manager, in Alun Rossiter, who seems to have the Midas touch, as he also guided Coventry to the Elite League title in 2010.
Rossiter has been blessed with some very good teams in the past but he has grown into the role and certainly knows how to motivate riders, and being Swindon born, winning the championship last year was a dream come true for him.
Hans Andersen starred for the Robins at home to Lakeside, scoring 12 points, along with Peter Kildemand, and he will be desperate to impress in Monday's Sky Live clash with Peterborough as he is on loan from the Panthers.
The Swindon captain has slipped out of the Grand Prix reckoning and never quite fulfilled his potential at that level of the sport.
But he is a proven performer in the Elite League, understands his responsibilities as the Swindon figurehead and could be a double-figure man every week.
Eddie Kennett, meanwhile, made the switch to Blunsdon from Coventry in the offseason and, while I'm not quite convinced he is a Grand Prix-level rider, I think he could have a very good run with his new club.
Swindon's Abbey Stadium isn't a natural track for him - it is fast and challenging and Kennett prefers smaller, tighter tracks - but that will develop him as a speedway rider and I expect him to bulk up the team's middle order.
Reliant
Peterborough have started the term in poor fashion, losing at home and away to King's Lynn, and I hope for their sake that that is just early-season rust; the Stars look a good side this year, but the Panthers would have been stunned to lose both fixtures.
They don't have an awful lot of experience in the side so they are going to have to dig deep in order to get results and will be heavily reliant on Denmark's Kenneth Bjerre.
Bjerre recently returned to action for the first time since breaking his leg in August and it is only natural that he will be a little cautious, not take too many risks, and build his confidence gradually - I was exactly the same when I broke my leg during my riding days.
Kenni Larsen and Patrick Hougaard are new to the Panthers for 2013 and I think both are good signings; the former has ridden well for Coventry for some time and the latter, even though he is a little injury prone and has an unusual, leg-trailing style, is capable.
Hougaard had been at Belle Vue since 2008 and with the Aces a little in the doldrums at the minute, he probably found it tough to stay highly motivated, so it could be that a fresh start with Peterborough is exactly what he needs.
Abbey Stadium always favours the home team and while the Panthers will relish the challenge of competing there, I would back Swindon to win relatively comfortably - and, eventually, keep hold of the Elite League title.