Elite League Speedway: Kelvin Tatum casts eye over teams and riders
Kelvin Tatum analyses the prospects of each team ahead of this year's Elite League Speedway season.
Last Updated: 26/03/13 11:08am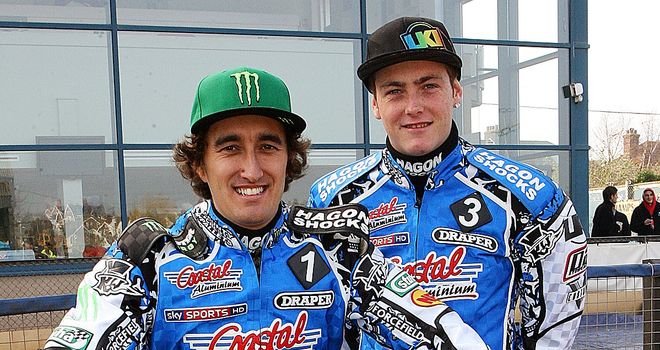 Swindon were crowned Elite League Speedway champions last season - but will they defend their crown or will one of the chasing pack emerge?
Kelvin has the answers in this team-by-team guide to the 2013 campaign.
BELLE VUE
There were lots of signings and there needed to be because they had a very disappointing time of it last season.
They signed Matej Zagar as a team leader. He's obviously a Grand Prix rider. Magnus Zetterstrom is in and he's vastly experienced. He's in the autumn of his career but having a super time so is a decent signing.
Looking at the others, you've got Ales Dryml down at number seven so he's got plenty of experience. He could be useful at reserve and I'd like to think the team has more about it this year. Whether it's a top four side, I think that's going to be a big challenge for them, but they'll be more competitive than 2012.
BIRMINGHAM
This is another team that has had some fairly major surgery over the winter months.
Bjarne Pedersen was obviously a big signing for them last year and it didn't work out - he's been replaced by Chris Harris and I think that's a good move. Harris is trying to rebuild his international career and is desperate to get back into the Grand Prix, so he's going to be highly motivated.
Without the interruptions of the Grand Prixs throughout the season, I think it could be of benefit. I think they've got a balanced team. They've got Jason Doyle and Danny King who are proven performers in the Elite League and also Josh Auty, who I think is starting to make his way. Martin Smolinski is another.
I don't think that they're favourite for the Elite League but I quite like the look of their side.
COVENTRY
Coventry have a heavy reliance on Polish riders and I'm a little concerned by that because they do a lot of travelling backwards and forwards during the year. If their form suffers at home then there is a tendency to ban them from coming to Britain.
That aside, I think Krzysztof Kasprzak is fantastic and Scott Nicholls is a solid performer.
They're a team that under-performed last year and I think they'll have a better run at it this year.
EASTBOURNE
They've got Bjarne Pedersen back which I think is a great move and Adam Shields coming out of retirement, but I think that on paper they just look one rider short to me. They need another one in the top five.
I think they'll be competitive at home but I think they'll find it difficult away. We heard Trevor Geer saying he was confident ahead of the new season but I think the top four is unlikely for them.
The team will have to over-achieve a little bit. There are question marks over some of the riders and I think other teams are stronger.
KING'S LYNN
I think King's Lynn are a good side. Niels Kristian Iversen was brilliant last year and the signing of Rory Schlein is an astute one. He had a disappointing time with Belle Vue last year but the season before that he was in sparkling form. If he can recapture some of that, it'll be great.
They've also got Simon Stead, who was released by Swindon, and I think King's Lynn will suit him. He likes big, fast tracks and that's what the Norfolk Arena is all about.
Nikolai Klindt is another underrated rider and if he recaptures the form he produced previously then I think King's Lynn could really surprise a few.
LAKESIDE
Lakeside have fantastic experience at the top with Peter Karlsson and Davey Watt, and Lewis Bridger is an interesting signing from Eastbourne.
Bridger is an incredibly talented and exciting rider but he sometimes fails to live up to that. If he can find consistency, then I think this Lakeside side will fire. They'll be difficult to beat at home.
With the experience of Watt and Karlsson, they could also pick up some points away. That plus their home form means they could well be challenging for the top four.
PETERBOROUGH
Kenneth Bjerre is staying and they've also had Kenni Larsen sign from Coventry. He's not a number one but he's an experienced Elite League rider.
I think if Patrick Hougaard can remain fit, they've got a sort of side - like Lakeside - that could be challenging for the top four.
They're going to need their main riders to stay fit and improve, but they're in with a chance.
POOLE
There has been a lot of controversy surrounding the off-track antics of Darcy Ward in the off-season.
I think he'll react to it all the only way he knows how - and that's to do the business on the track. I don't see any reason why he won't do that. He's a controversial character without question but extremely talented and what he does best is just ride the bike.
I expect Ward to be doing his stuff down there and I think the question mark will be Maciej Janowski. If the U20 World Champion of 2012 can become the third rider in behind, then they'll be less top heavy.
SWINDON
The champions have a good-looking side again as they set about defending the crown.
The late arrival of Troy Batchelor is a good acquisition and you've got Peter Kildemand and Edward Kennet coming in. I like the look of this. They may be slightly weaker in reserve, but their top five is as good as anybody's.
There is pressure on them, I think. Alan Rossiter is a high-profile, successful manager and they did it in fine style. They're there to be shot at and the pressure that comes with that.
WOLVERHAMPTON
I think they're a little bit like Eastbourne in having two stars at the top of the order.
Adam Skornicki is a good signing as he knows the place well and is a solid rider, but I have a few question marks over the bottom four with Jacob Thorssell and Sam Masters as reserves.
I think they'll struggle to make the top four.
KELVIN'S TOP FOUR-CAST: Swindon, Poole, King's Lynn, Birmingham.