Season to remember
Kelvin Tatum reflects on a remarkable Elite League season and the best GP series he's seen...
Last Updated: 25/10/12 12:10pm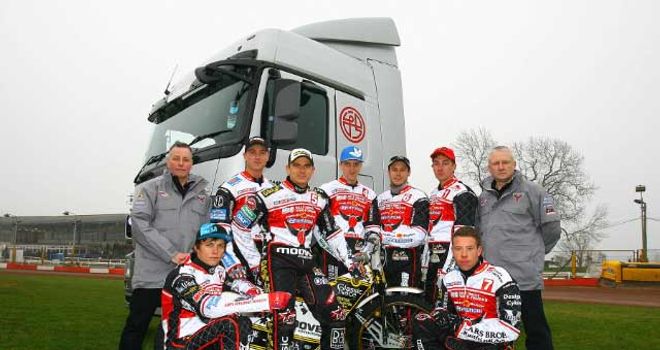 After two cancellations the second lef of the Sky Sports Elite League Grand Final was eventually able to take place on Monday, with Swindon Robins causing an upset at Poole to claim the Pirates crown.
It was a fantastic night of racing which capped a memorbale Speedway season - albeit one that has been dogged by wet weather. There's no denying weather played its part in the Elite League this year!
Hopefully the weather will prove more favourable in 2013 - and it would also be good to see teams in the Elite League look to re-build their sides and really challenge Swindon and Poole next season as the contest was a two-horse race for much of this campaign.
Swindon and Poole each had terrific seasons and hopefully they've inspired their rivals in the Elite League to go for glory themesleves in 2013.
But before we look to next season now's the perfect time to reflect on the 2012 Elite League and also this year's Grand Prix series which was the best I'd ever witnessed...
2012 Elite League
I fancied Poole to win the Grand Final but in the end Swindon proved too strong for them and the Robins fully deserved to take the title on Monday night.
Psychologically the loss of Darcy Ward - who was hurt in an incident outside a pub over the weekend - was a blow for the hosts and there's no question that unsettled them. You lose more than just the points a rider like that wins on the track when he's absent - Darcy Ward is an integral part of the Poole team.
Chris Harris came in and did an admirable job but in the end the lack of strength in depth at Poole cost them the Elite League title.
It was quite evident even as far back as April that these two sides were very strong and they were well clear of the chasing back in the Elite League this season. Both had quality right through the backbone of their team and had been clever in the way they built their teams so they had riders in reserve and second string that were going to improve.
Team of the Season
It's difficult to look past Swindon when it comes to Team of the Season. It was a terrific feat for them to win the Grand Final after finishing bottom of the Elite League last year. I thought Poole would retain their title but it wasn't to be for the Pirates. However, the way Swindon have gone about their business this year you can't look anywhere else when it comes to Team of the Season; they've been outstanding.
The Robins showed great character to rebuild the side after last year and to come through to win the title was just reward for their effort. They hadn't won the championship since 1967 so it was a special night for them.
Honourable mentions: Aside from Poole, who were obviously impressive, I think Birmingham have done well this year. They've only been in the Elite League for two seasons but they made the play-offs and, although they were a little disappointing in their semi-final, that was a decent effort from them. Lakeside made the top four again and after the tragic loss of Lee Richardson, who died in a crash this year, they did remarkably well to make the play-offs. Both those teams had pretty good years on the track.
Underachievers: If Birmingham had a good year then the other two Midlands clubs were disappointing. Coventry had a good line-up and a lot of people fancied them to do well but lack of form and injuries cost them this season. Meanwhile, Wolverhampton - who are another team that has had a lot of success in the past - didn't click this year either. Tai Woffinden had a long period out injured, Freddie Lindgren, despite a terrific year on the GP circuit, wasn't quite at his best in the Elite League and they didn't have the strength they needed through their squad. Both of those clubs would say they haven't done as well as they thought they would this year.
Rider of the Season
Peter Kildemand. He began the season as reserve for Swindon but started like a house on fire and subsequently moved up into the main body of the team. Often we see a rider then fail to reproduce the same form and although he had a mid-season dip he finished in fine style and had a super season.
Honourable mentions: Obviously Chris Holder has done a great job for Poole but I'd also like to pick out Niels Kristian Iversen. He performed well as number one rider for Kings Lynn this year - although his season highlight was captaining Denmark as they lifted the World Cup with a three point win over Australia in Malilla. I also have to mention Darcy Ward, who was unfortunately unable to race in the second leg of the Grand Final. He's been a key figure for Poole this season and it will be interesting to see how he gets on in the Grand Prix series next year.
Best Meet
The first leg of the Grand Final. We had some good league matches but the finals are always more intense and they were very exciting this year, particularly leg one. The way Poole battled back from 18 points down and the style in which they did it was just pure theatre. That was a real standout meeting for me.
Teams to look out for 2013
Without question Poole will be there again; their consistency in the last ten years has been fabulous and they always put a good team together. Peterborough are a team that have been unfortunate this year with a lot of injury problems and I'd like to think they'll come back strong, while Swindon now have a forward looking management team and I'd suggest they'll be involved in the title race as well.
Grand Prix series
This was the best Grand Prix series I've witnessed. It was fabulous.
It started off down in New Zealand and finished in Torun, Poland and in that time we saw some fantastic Speedway along the way. The way the season developed was brilliant, with four riders involved in the race for the title while riders such as Antonio Lindback finally won a Grand Prix - and of course there was the return to form of Nicki Pedersen, a lot of people's pantomime villain.
Then there was the drama and controversy in the semi-final in Torun. I think Chris Holder was lucky not to get excluded and he admitted as much when we spoke to him after the race. He momentarily lost control and he gave Nicki Pedersen a real good shove. It was a very high pressured situation and the referee took the safe option. If it had been a Polish referee we may have found Chris excluded - but, let's be clear, he fully deserved to be world champion. He was a touch lucky in that incident but over the course of the season he was the best rider.
So there were a lot of different ingredients which made it very special.
Rider of the Season
Holder was outstanding but a rider who burst onto the scene and who we knew had a lot of ability was Antonio Lindback. For him to start so poorly then turn his season around and win two Grands Prix was great to watch. He really is a rider who you could now look at and say is a potential top three for next year. Lindback for me is a rider who has done remarkably well this year.
Ones to watch in 2013
Along with Lindback there's Australia's Darcy Ward coming in as a wildcard and you've got to keep an eye out for him. Martin Vaculik is also another rider that's done very well coming in this season.
Pics: Les Aubrey and Mike Hinves