Pirates ready to strike: Kelvin Tatum says Poole Pirates will snatch the Elite League title despite Swindon's first-leg lead
Kelvin Tatum says Poole Pirates will snatch the Elite League title despite Swindon's first-leg lead.
Last Updated: 16/10/12 1:56pm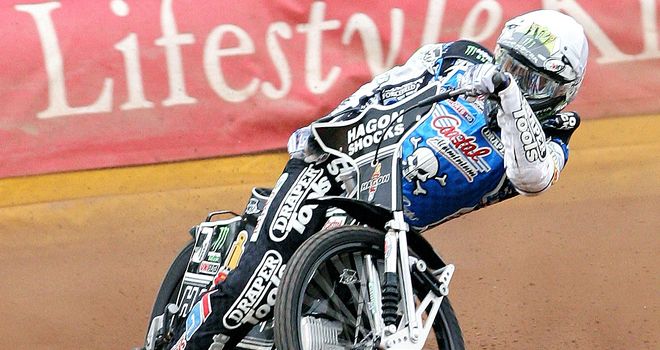 At one stage during the Abbey Stadium showdown the hosts were 18 points to the good over the league winners, but a strong finish from Poole's big name stars - particularly in the double point races - shifted the momentum the way of the Pirates.
Swindon started very well and adapted far quicker than Poole to unusual track conditions; the track was very dry because of the threat of rain and that really played a part early on. However, credit to the Robins, they were sharper away from the tape and seemed to have far more strength in depth in the early races.
There's no question Poole were under pressure at that stage - you could see that by the mood in their pits. But they're not champions for nothing and they battled hard to force their way back into the contest.
The Pirates flexed their muscles in the last five races with their world class riders Chris Holder and Darcy Ward significantly scoring in the double-point races.
That turned the tide of the tie psychologically towards Poole. Swindon would have hoped to have stemmed the flow of points going Poole's way but the Pirates continued to gain confidence and with Holder and Ward winning that showed how powerful those two can be.
That pair really made a difference last night and kept Poole in it. They've delivered for Poole all season and there's no question their class came through last night.
Despite Swindon holding on to win the meet, the reigning champions will be confident they can overturn that advantage on home turf.
It's possible the track at Wimborne Road could also be tricky on Wednesday and that could play its part - the weather has been unpredictable all year and the weather forecast isn't fantastic so there's every chance conditions could be unpredictable.
However, I believe Poole will win on the night and overturn the deficit to retain the Elite League title. What happened last night in the last five races will be very difficult for Swindon to turn around. The Pirates won't start so slowly in the second leg and I think they'll clinch it.