Home hope
Birmingham must make the most of their home advantage against Swindon, says Kelvin Tatum.
Last Updated: 29/09/12 2:49pm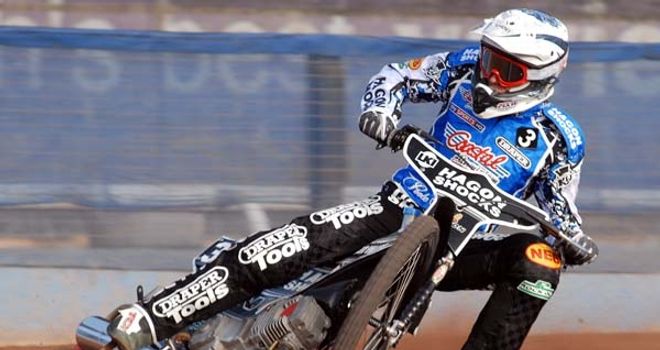 Birmingham v Swindon
The weather has been a nuisance to say the least so fingers crossed it remains settled for Monday night and the re-run of Birmingham and Swindon, because it should be a great match.
Birmingham have got to put in a terrific performance. Swindon went over there recently without their number one man Hans Andersen and still managed to win - although Birmingham were in control for a large majority of that match.
They are a team that on paper look good but often they have not fired on full cylinders. They have been a bit sporadic. But on Monday they are going to need to have riders like Bjarne Pedersen and Seb Ulamek, in particular, to be at their best. Those experienced riders have got to come up with big performances because Swindon are a good side.
Home advantage will be vital for Birmingham. Swindon are very good at home so Birmingham must have a lead going into the second leg. To have a chance of going through to the final Birmingham would try for a 10-point lead.
Swindon are a very balanced side. Hans Andersen has done a very good job of riding at number one and Troy Batchelor, who started slowly, has done some decent work. And most of their key men, like Jason Doyle, have performed really well at key moments.
They have also got Simon Stead who is a former England international and is now riding reserve, so they have strength in depth and they have managed to get points from all areas most of the time.
KELVIN'S CALL: The stakes are high so I think it will be a narrow home win, which sets it up nicely for Swindon at home. I think it will be a two-point win or something of that degree and that will help Swindon a lot.
Poole v Lakeside
In the second leg of Poole against Lakeside, I fear for Lakeside.
The first leg was a decent night and all credit to the staff for making sure it went ahead. But unfortunately for Lakeside they got beaten. They put up a good fight but Davey Watt was ill, their number one rider. Scott Nicholls came in, which was a good booking, but he didn't have a good night.
Poole's record at Wimborne Road is superb and their support at home suggests Lakeside will struggle. It should be a fairly straightforward night for them.
In many ways this is like Lakeside's final. Peterborough were the team that missed out and they had lost two top men in the last few weeks through injury. Otherwise I think they would have overhauled Lakeside, so in some ways they have did very well to hang on to a top-four slot.
I am sure they will put up a good display but form suggests that they will find it difficult on Monday.
For Poole, Darcy Ward is a marvellous rider who oozes talent. He is great to watch and there is no question that he is a star of the future and I can't wait to see him in the final with team-mate Chris Holder.
Ward was unbeaten going into heat 15; he just missed out then but he put on a big display in the first leg against Lakeside.
KELVIN'S CALL: I'd like to say that Lakeside will strike back because I used to ride there but I just can't see it. I think Poole will be too strong. I think that Poole will win by about 12 points.