Digging deep
Kelvin Tatum pays tribute to Jason Crump and looks at Lakeside's chances against Poole.
Last Updated: 24/09/12 1:12pm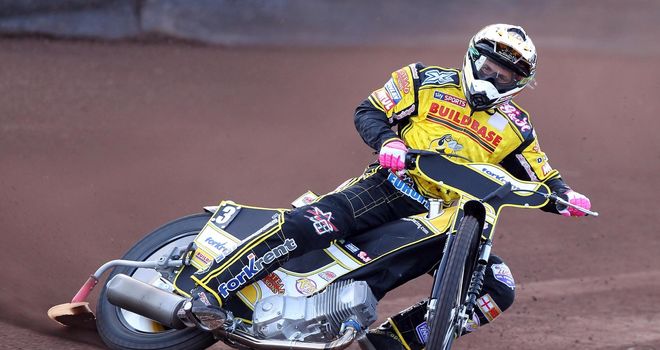 Firstly, I want to pay my respects to Jason Crump who has called time on his Grand Prix career.
He has a fabulous record and was just a wonderful ambassador for our sport. He will continue to ride in the domestic league but it will be strange not to see him competing in the world championships. He has graced us with top-class performances for the last 10 years and is a man who has achieved all his ambitions.
Back to the Elite League and the Birmingham v Swindon semi-final has already been called off due to the weather, while there are huge question marks as to whether Lakeside v Poole will go ahead with all the rain.
If it does there is no way that the track will be ideal - it is a tricky track at the best of times so it is going to be even more of a challenge in these conditions. I am sure that the track staff will be hoping that the rain just blows over so that they have a reasonable time to do their best to sort it out.
Davey Watt's absence is a big blow for Lakeside - he has obviously got some health issues but fingers crossed that it is nothing too serious and that he makes a speedy recovery. They do have a very able replacement in Scott Nicholls who is a bit of a track specialist. I think he will do a very decent job for them.
However even with Nicholls there is no question that Lakeside are the underdogs even though they are at home - Poole have been their twice and won twice and are looking good.
Lakeside just got into the top four by the skin of their teeth. Peterborough looked set to overhaul them but they had an injury crisis that halted their progress.
Special performance
The Hammers have had an emotional season. The tragic loss of Lee Richardson was devastating for everyone and the team seemed to have been inspired by him. They have run out of a bit of steam in the last few weeks and I think they really need to dip into their reserves tonight for one last push.
They are going to have to come up with a special performance tonight - if it goes ahead - against the Pirates. They will obviously need to win and ideally need at least a 10-point lead going into next week's return leg. I would suggest that they would need one or two of the Poole riders to be off colour if they want to get that 10-point buffer.
The form of teams and riders can go out the window on a night like tonight. When it is wet you need to make good starts, get out in front and stay out of trouble. I think there is also the mindset - some riders look at wet conditions and think: 'No that is not for me.' You have to have a positive outlook and the team that has that on the night will prevail.
KELVIN'S CALL: Poole are favourites for obvious reasons and I think they will be very hard to beat. This weather may be a bit of a leveller but I'm not sure Lakeside will be able to lift themselves for this and get the buffer they need.